Welcome to WWW Wednesday! This meme is hosted by Sam @ Taking on a World of Words. It's simple – just answer the three questions below. And check out her post this week to get inspired by what everyone else is reading!
The Three Ws are:
What are you currently reading?
What did you recently finish reading?
What do you think you'll read next?
---
Currently Reading: Too Close to Breathe
TOO SOON TO SEE
Polished. Professional. Perfect. Dead. Respected scientist Dr Eleanor Costello is found hanging in her immaculate home: the scene the very picture of a suicide.
TOO LATE TO HIDE
DCS Frankie Sheehan is handed the case, and almost immediately spots foul play. Sheehan, a trained profiler, is seeking a murderer with a talent for death.
TOO CLOSE TO BREATHE
As Frankie strives to paint a picture of the killer, and their victim, she starts to sense they are part of a larger, darker canvas, on which the lines between the two blur.
Olivia Kiernan's debut is a bold, brilliant thriller that will keep you guessing and leave you breathless.
 • • •
Would-be open-and-shut cases that aren't quite what they seem always reel me in from the summary. I've seen strong reviews for this thriller debut, and I'm already intrigued by the flawed and multi-layered nature of both our protagonist and our victim. It's off to a bit of a slow start, but I'm hoping that's just because I haven't been able to sit down and really devote myself to it, yet!
Recently Finished: The Wicked Deep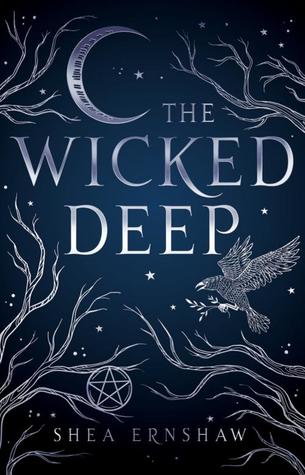 Welcome to the cursed town of Sparrow…
Where, two centuries ago, three sisters were sentenced to death for witchery. Stones were tied to their ankles and they were drowned in the deep waters surrounding the town.
Now, for a brief time each summer, the sisters return, stealing the bodies of three weak-hearted girls so that they may seek their revenge, luring boys into the harbor and pulling them under.
Like many locals, seventeen-year-old Penny Talbot has accepted the fate of the town. But this year, on the eve of the sisters' return, a boy named Bo Carter arrives; unaware of the danger he has just stumbled into.
Mistrust and lies spread quickly through the salty, rain-soaked streets. The townspeople turn against one another. Penny and Bo suspect each other of hiding secrets. And death comes swiftly to those who cannot resist the call of the sisters.
But only Penny sees what others cannot. And she will be forced to choose: save Bo, or save herself.
 • • •
This was my final read of April and a fun one, too! The premise spoke to me and promised an atmospheric, haunting tale in an isolated, myth-ridden coastal town. It didn't end up blowing me away (review to come!), but I did enjoy it overall and would recommend it as a quick paranormal YA read.
Reading Next: We Other
A gripping fantasy for young adults and anyone who enjoys a journey into a twilight world. Sue Bentley is a master story teller.
Family secrets, changelings, and fairies you never want to meet on a dark night.
Jess Morgan's life has always been chaotic. When a startling new reality cannot be denied, it's clear that everything she believed about herself is a lie. She is linked to a world where humans – 'hot-bloods' – are disposable entertainment. Life on a run-down estate – her single mum's alcoholism and violent boyfriend – become the least of Jess's worries.
 • • •
I'm going to be participating in my first blog tour this month with this YA fantasy novel. It sounds dark and messy—aka perfect for me 🙂 Side note, I'm notoriously bad at reading more than one book at once, but I'm going to try to improve on that this May. I'll be trying to tackle a physical book at the same time as an eBook to optimize reading time and also tackle both DRCs and library borrows at the same time … with the ultimate goal of wrangling my stack back into shape. This'll be my first eBook I pick up to attempt that. Fingers crossed!
---
And that's a current snapshot of my books! Have you read any of these? What does your WWW look like?
Let's connect!
Goodreads • Instagram • Twitter • Bloglovin'