Top Ten Tuesday was created by The Broke and the Bookish in June of 2010 and was moved to That Artsy Reader Girl in January of 2018. It was born of a love of lists, a love of books, and a desire to bring bookish friends together.
This list was so hard. It's rare for me to truly dislike a book – I'm either really lucky in my picks or just do a great job of avoiding ones I don't think will do it for me. And when I do hate books, it's usually because there's not a single likable character to be found or I don't remember any of the characters.
For this theme, I'm going to choose characters I appreciated in books that weren't favorites of mine – which only means, if a book is on this list, it's not one of the few books on my favorites shelf. There are a good handful in here I actively disliked … and some characters whose names I honestly can't remember … but for the most part, plenty of these were decent reads with characters that stood out to me for one reason or another.
---
The Perfectionists
Ava, Caitlin, Mackenzie, Julie, and Parker are all driven to be perfect—no matter the cost.
At first the girls think they have nothing in common, until they discover that they all hate the same person: handsome womanizer Nolan Hotchkiss, who's done things to hurt each of them.
They come up with the perfect plan to murder Nolan—jokingly, of course. They'd never actually go through with it. But when Nolan turns up dead in the exact way they'd discussed, the girls suddenly become prime suspects in his murder.
Only, they didn't do it.
So who did? Unless they find the real killer, and soon, any one of them may be the next to die…
• • •
Carson. Sara Shepard's The Perfectionists was a quick, guilty pleasure read for me, but I didn't much care for the duology overall. I do remember feeling bad for poor Carson (I'm honestly relying on a comment on a Wiki page that that's his name) and respecting how supportive he was of Julie even when the school turned against her and she grew increasingly flighty with him.
The Favorite Sister
When five hyper-successful women agree to appear on a reality series set in New York City called Goal Diggers, the producers never expect the season will end in murder…
Brett's the fan favorite. Tattooed and only twenty-seven, the meteoric success of her spin studio—and her recent engagement to her girlfriend—has made her the object of jealousy and vitriol from her cast mates.
Kelly, Brett's older sister and business partner, is the most recent recruit, dismissed as a hanger-on by veteran cast. The golden child growing up, she defers to Brett now—a role which requires her to protect their shocking secret.
Stephanie, the first black cast member and the oldest, is a successful bestselling author of erotic novels. There have long been whispers about her hot, non-working actor-husband and his wandering eye, but this season the focus is on the rift that has opened between her and Brett, former best friends—and resentment soon breeds contempt.
Lauren, the start-up world's darling whose drinking has gotten out of control, is Goal Diggers' recovery narrative—everyone loves a comeback story.
And Jen, made rich and famous through her cultishly popular vegan food line plays a holistic hippie for the cameras, but is perhaps the most ruthless of them all when the cameras are off.
• • •
Layla. This book had so much promise for me but ended up falling flat – largely because it was impossible for me to like any of the main characters. I instead latched onto Layla, Kelly's daughter who flits in and out of the story, feeling bad that she had been thrust into this reality TV world because of her mom's and aunt's ambitions.
Bonfire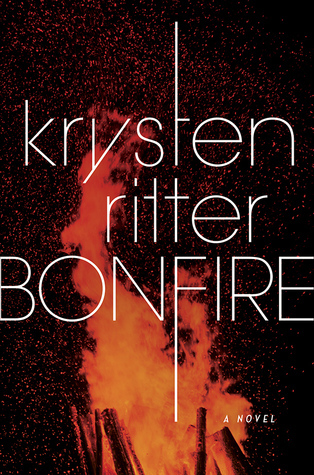 It has been ten years since Abby Williams left home and scrubbed away all visible evidence of her small town roots. Now working as an environmental lawyer in Chicago, she has a thriving career, a modern apartment, and her pick of meaningless one-night stands.
But when a new case takes her back home to Barrens, Indiana, the life Abby painstakingly created begins to crack. Tasked with investigating Optimal Plastics, the town's most high-profile company and economic heart, Abby begins to find strange connections to Barrens' biggest scandal from more than a decade ago involving the popular Kaycee Mitchell and her closest friends—just before Kaycee disappeared for good.
Abby knows the key to solving any case lies in the weak spots, the unanswered questions. But as Abby tries to find out what really happened to Kaycee, she unearths an even more disturbing secret—a ritual called "The Game," which will threaten the reputations, and lives, of the community and risk exposing a darkness that may consume her.
With tantalizing twists, slow-burning suspense, and a remote, rural town of just five claustrophobic miles, Bonfire is a dark exploration of the question: can you ever outrun your past?
• • •
Abby. I enjoyed this book and found it to be a strong debut, but it didn't blow me away. Abby was such a great main character, though. The scars of her past cloud her judgment, but she's stubborn and determined to push past them anyways. There were plenty of times I didn't like or agree with her actions, but I always felt I had enough insight into her motivations.
Daughter of the Pirate King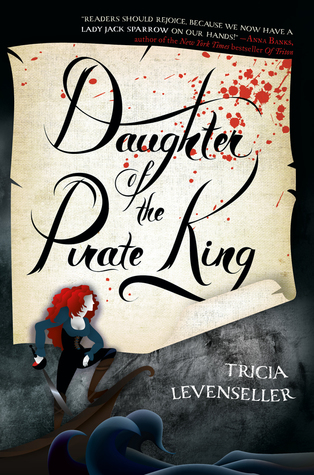 Sent on a mission to retrieve an ancient hidden map—the key to a legendary treasure trove—seventeen-year-old pirate captain Alosa deliberately allows herself to be captured by her enemies, giving her the perfect opportunity to search their ship.
More than a match for the ruthless pirate crew, Alosa has only one thing standing between her and the map: her captor, the unexpectedly clever and unfairly attractive first mate, Riden. But not to worry, for Alosa has a few tricks up her sleeve, and no lone pirate can stop the Daughter of the Pirate King.
• • •
Alosa. I actually adored this book, but I had my bones to pick with it. Alosa's wit, tenacity, and resourcefulness were a blast to read, though, and I'm looking forward to more of her adventures in the second half of this duology!
I See You
Every morning and evening, Zoe Walker takes the same route to the train station, waits at a certain place on the platform, finds her favorite spot in the car, never suspecting that someone is watching her…
It all starts with a classified ad. During her commute home one night, while glancing through her local paper, Zoe sees her own face staring back at her, a grainy photo along with a phone number and listing for a website called findtheone.com. 
Other women begin appearing in the same ad, a different one every day, and Zoe realizes they've become the victims of increasingly violent crimes—including rape and murder. With the help of a determined cop, she uncovers the ad's twisted purpose…a discovery that turns her paranoia into full-blown panic. For now Zoe is sure that someone close to her has set her up as the next target. 
And now that man on the train—the one smiling at Zoe from across the car—could be more than just a friendly stranger. He could be someone who has deliberately chosen her and is ready to make his next move…
• • •
Zoe's Daughter. Clare Mackintosh's writing is, for better or worse, always going to be compared against her first novel, I Let You Go. I definitely didn't enjoy this one as much, but it was still a solid mystery. Zoe Walker wasn't a character I cared much for, but I enjoyed getting to know her daughter … whose name I can't remember, oops. I thought the focus on her theater ambitions was exciting, and I loved the way she stepped up at the end.
Living with the Dead
The men and women of the Otherworld – witches, werewolves, demons, vampires – live unseen among us. Only now a reckless killer has torn down the wall, trapping one very human woman in the supernatural crossfire.
Robyn moved to LA after her husband died to try to put some distance between herself and the life they had together. And the challenges of her job as the PR consultant to a Paris Hilton wannabe are pretty distracting. But then her celebutante is gunned down in a night club, and Robyn is suddenly the prime suspect. The two people most determined to clear her are her old friend, the half-demon tabloid reporter Hope Adams, and a homicide detective with an uncanny affinity for the dead.
Soon Robyn finds herself in the heart of a world she never even knew existed – and which she was safer knowing nothing about . . .
• • •
Hope. This is such cheating, but Living with the Dead was one of my least favorite books in the Women of the Otherworld series by Kelley Armstrong. But one of the minor characters had been the main character in my favorite installment in the series: the half-demon Hope Adams from Personal Demon. Fun fact: I read the series out of order and started with Personal Demon, and it's still my favorite.
The Child Finder
Three years ago, Madison Culver disappeared when her family was choosing a Christmas tree in Oregon's Skookum National Forest. She would be eight years old now—if she has survived. Desperate to find their beloved daughter, certain someone took her, the Culvers turn to Naomi, a private investigator with an uncanny talent for locating the lost and missing. Known to the police and a select group of parents as The Child Finder, Naomi is their last hope.
Naomi's methodical search takes her deep into the icy, mysterious forest in the Pacific Northwest, and into her own fragmented past. She understands children like Madison because once upon a time, she was a lost girl too. 
As Naomi relentlessly pursues and slowly uncovers the truth behind Madison's disappearance, shards of a dark dream pierce the defenses that have protected her, reminding her of a terrible loss she feels but cannot remember. If she finds Madison, will Naomi ultimately unlock the secrets of her own life?
• • •
Madison. I've seen a lot of wonderful reviews for this book, and I wish I loved it as much as so many other people did! I just found it so hard to connect with Naomi and get immersed in her half of the narration. Madison's chapters, though, were beautiful, heart-breaking, and haunting – a true testament to the strength of a child's imagination and resilience.
The Last Policeman
What's the point in solving murders if we're all going to die soon, anyway?
Detective Hank Palace has faced this question ever since asteroid 2011GV1 hovered into view. There's no chance left. No hope. Just six precious months until impact.
The Last Policeman presents a fascinating portrait of a pre-apocalyptic United States. The economy spirals downward while crops rot in the fields. Churches and synagogues are packed. People all over the world are walking off the job—but not Hank Palace. He's investigating a death by hanging in a city that sees a dozen suicides every week—except this one feels suspicious, and Palace is the only cop who cares.
The first in a trilogy, The Last Policeman offers a mystery set on the brink of an apocalypse. As Palace's investigation plays out under the shadow of 2011GV1, we're confronted by hard questions way beyond "whodunit." What basis does civilization rest upon? What is life worth? What would any of us do, what would we really do, if our days were numbered?
• • •
Nico. I had high hopes for this series but ended up feeling only meh about it. The pre-apocalyptic United States is such an interesting setting for mysteries, though. I really enjoyed the main character's sister, Nico, who truly believes there's a way to prevent the apocalypse from happening and gets swept up in larger conspiracies and adventures attempting to quite literally save the world.
Euphoria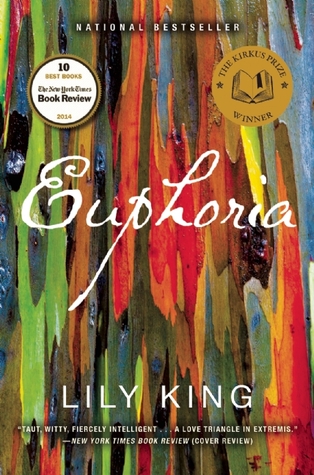 Inspired by the true story of a woman who changed the way we understand our world.
In 1933 three young, gifted anthropologists are thrown together in the jungle of New Guinea. They are Nell Stone, fascinating, magnetic and famous for her controversial work studying South Pacific tribes, her intelligent and aggressive husband Fen, and Andrew Bankson, who stumbles into the lives of this strange couple and becomes totally enthralled. Within months the trio are producing their best ever work, but soon a firestorm of fierce love and jealousy begins to burn out of control, threatening their bonds, their careers, and, ultimately, their lives…
• • •
Nell. This was a confusing read for me, and I didn't end up enjoying it as much as I thought I would, but the anthropological aspect was fascinating. The linguist in me was nodding along with Nell's work, and I really enjoyed the way she interacted with the tribes and made an honest effort to become a part of their community.
They All Fall Down
Hannah had a perfect life in London—a loving husband, a great job—until she did something shocking. Something that she doesn't quite understand herself; and now she has landed herself in a high-risk psychiatric unit.
Since Hannah has been admitted, two women have died, including Charlie, one of her closest friends in the institution. It's a high-risk unit, the authorities say. Deaths happen. But Hannah knows Charlie wouldn't have killed herself. She is convinced there's a serial killer picking off the patients one by one, passing their deaths off as suicides. But why? And who will believe her?
Corinne, Hannah's mother, is worried sick about her eldest daughter. She hates that she's ended up in the unit, though she knows it's the best place for her to get the treatment she needs. At first, Corinne assumes Hannah's outlandish claims about a killer in the unit are just another manifestation of her psychological condition, but as she starts to uncover strange inconsistencies surrounding the unit's charismatic director, Dr. Roberts, she begins to wonder if her daughter might have stumbled upon the truth.
But who can Corinne trust, when she doesn't even trust her own daughter?
• • •
Corinne. They All Fall Down was a decent read filled with unreliable narrators and a much-appreciated focus on mental illness. Of all the narrators, I liked Corinne best. How many mothers would go to such lengths to assuage their daughter's concerns, even when that daughter is "safely" admitted to a mental institution? I loved her strength and determination.
---
Were there any familiar reads on this list for you? Did other book bloggers struggle with this theme? I hope that just means we're all enjoying the books we're reading!
Feel free to link your posts this week – I'd love to see all your picks. Check out That Artsy Reader Girl's host post for even more inspiration!
Let's connect!
Goodreads • Instagram • Twitter • Bloglovin'