Goodreads Monday is a weekly meme hosted by Lauren's Page Turners. To participate, choose a random book from your TBR and show it off! Check out this week's post to share your links.
Yes, thank you, random number generator, I'm very aware I need to get my act together and read this one already …
---
A Court of Thorns and Roses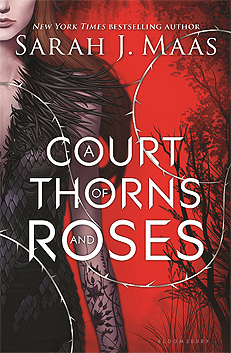 Author: Sarah J. Maas
Genre: Fantasy, Young Adult
Publication Date: May 5, 2015
Feyre's survival rests upon her ability to hunt and kill – the forest where she lives is a cold, bleak place in the long winter months. So when she spots a deer in the forest being pursued by a wolf, she cannot resist fighting it for the flesh. But to do so, she must kill the predator and killing something so precious comes at a price …
Dragged to a magical kingdom for the murder of a faerie, Feyre discovers that her captor, his face obscured by a jewelled mask, is hiding far more than his piercing green eyes would suggest. Feyre's presence at the court is closely guarded, and as she begins to learn why, her feelings for him turn from hostility to passion and the faerie lands become an even more dangerous place. Feyre must fight to break an ancient curse, or she will lose him forever.
---
It was thanks to the recommendation of a coworker that I started the Throne of Glass series, which pulled me out of a young adult and general reading slump that had lasted way too long. I absolutely adored the first novel and have been slowly and painstakingly making my way through the rest of the series since – I'm only on the fourth one, don't judge me, I'm making them last!
I've seen all the great reviews for the A Court of Thorns and Roses series, though, and that same coworker has gushed to me about how wonderful it is, too, so I know I need to make some time for them … and hopefully sooner than later. I'm trying to motivate myself by sticking the second book, A Court of Mist and Fury, into my Popsugar Reading Challenge for 2018 – so fingers crossed!
Who else is a Sarah J. Maas fan? Anyone think I'm crazy for taking my time with these series? 😂
Let's connect!
Goodreads • Instagram • Twitter • Bloglovin'