Top Ten Tuesday was created by The Broke and the Bookish in June of 2010 and was moved to That Artsy Reader Girl in January of 2018. It was born of a love of lists, a love of books, and a desire to bring bookish friends together.
This week's theme is supposed to be Favorite Novellas/Short Stories, but I apparently …. don't read short stories? Aside from required reading back in school—and I wasn't looking to go so far down memory lane—I can't think of any short stories I've read outside of the occasional novella for series that I follow. So I decided to put a slight twist on the topic and instead make it Favorite Series with Novellas.
I focused on book series I've read at least one book from, even if that book wasn't a novella. And to be completely honest, even with those caveats, I *really* struggled to come up with this list. Shorter books just really aren't my thing!
For my picks, I've included the cover and synopsis of the first book in each series with the cover linked to the series page on Goodreads. Check out my picks below!
---
Cainsville
The first book in this series is Omens.
Twenty-four-year-old Olivia Taylor Jones has the perfect life. The only daughter of a wealthy, prominent Chicago family, she has an Ivy League education, pursues volunteerism and philanthropy, and is engaged to a handsome young tech firm CEO with political ambitions.
But Olivia's world is shattered when she learns that she's adopted. Her real parents? Todd and Pamela Larsen, notorious serial killers serving a life sentence. When the news brings a maelstrom of unwanted publicity to her adopted family and fiancé, Olivia decides to find out the truth about the Larsens.
Olivia ends up in the small town of Cainsville, Illinois, an old and cloistered community that takes a particular interest in both Olivia and her efforts to uncover her birth parents' past.
Aided by her mother's former lawyer, Gabriel Walsh, Olivia focuses on the Larsens' last crime, the one her birth mother swears will prove their innocence. But as she and Gabriel start investigating the case, Olivia finds herself drawing on abilities that have remained hidden since her childhood, gifts that make her both a valuable addition to Cainsville and deeply vulnerable to unknown enemies. Because there are darker secrets behind her new home and powers lurking in the shadows that have their own plans for her.
• • •
Although this urban fantasy series had its ups and downs for me, I was fascinated by the rich mythology and characters. I just recently read its first post-series novella, Rough Justice, and I hadn't realized several other novellas were written during the series … I'll have to circle back!
Harry Potter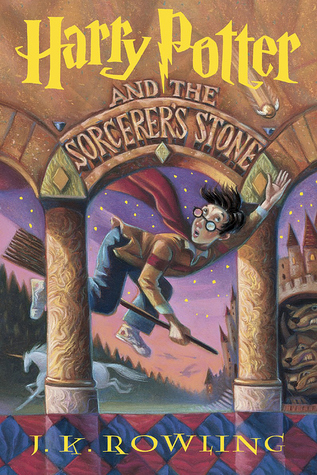 The first book in this series is Harry Potter and the Sorcerer's Stone.
Harry Potter's life is miserable. His parents are dead and he's stuck with his heartless relatives, who force him to live in a tiny closet under the stairs. But his fortune changes when he receives a letter that tells him the truth about himself: he's a wizard. A mysterious visitor rescues him from his relatives and takes him to his new home, Hogwarts School of Witchcraft and Wizardry.
After a lifetime of bottling up his magical powers, Harry finally feels like a normal kid. But even within the Wizarding community, he is special. He is the boy who lived: the only person to have ever survived a killing curse inflicted by the evil Lord Voldemort, who launched a brutal takeover of the Wizarding world, only to vanish after failing to kill Harry.
Though Harry's first year at Hogwarts is the best of his life, not everything is perfect. There is a dangerous secret object hidden within the castle walls, and Harry believes it's his responsibility to prevent it from falling into evil hands. But doing so will bring him into contact with forces more terrifying than he ever could have imagined.
Full of sympathetic characters, wildly imaginative situations, and countless exciting details, the first installment in the series assembles an unforgettable magical world and sets the stage for many high-stakes adventures to come.
• • •
This is a little bit of a cheat, but I'm totally counting the Hogwarts Libraries stories, including Quidditch Through the Ages, Fantastic Beasts and Where to Find Them, and The Tales of Beedle the Bard. I actually haven't read any of them, but I love that they exist!
Otherworld
The first book in this series is Bitten.
Elena Michaels is the world's only female werewolf. And she's tired of it. Tired of a life spent hiding and protecting, a life where her most important job is hunting down rogue werewolves. Tired of a world that not only accepts the worst in her–her temper, her violence–but requires it. Worst of all, she realizes she's growing content with that life, with being that person.
So she left the Pack and returned to Toronto where she's trying to live as a human. When the Pack leader calls asking for her help fighting a sudden uprising, she only agrees because she owes him. Once this is over, she'll be squared with the Pack and free to live life as a human. Which is what she wants. Really.
• • •
This was the first adult series I ever read, and it's where I fell in love with Kelley Armstrong's writing. The thirteen book series is creates a rich urban fantasy world filled with so many lovable characters, and many of them get their back stories fleshed out with novellas.
Gallagher Girls
The first book in this series is I'd Tell You I Love You But Then I'd Have to Kill You.
Cammie Morgan is a student at the Gallagher Academy for Exceptional Young Women, a fairly typical all-girls school-that is, if every school taught advanced martial arts in PE and the latest in chemical warfare in science, and students received extra credit for breaking CIA codes in computer class. The Gallagher Academy might claim to be a school for geniuses but it's really a school for spies. Even though Cammie is fluent in fourteen languages and capable of killing a man in seven different ways, she has no idea what to do when she meets an ordinary boy who thinks she's an ordinary girl. Sure, she can tap his phone, hack into his computer, or track him through town with the skill of a real "pavement artist"-but can she maneuver a relationship with someone who can never know the truth about her? 
Cammie Morgan may be an elite spy-in-training, but in her sophomore year, she's on her most dangerous mission-falling in love.
• • •
I adored this series when I was back in high school but never got beyond the third book or so. It was a little cheesy but a lot of fun! Apparently it has a couple novellas, which I didn't realize before searching for series that would fit this theme.
Darkest Powers
The first book in this series is The Summoning.
My name is Chloe Saunders and my life will never be the same again.
All I wanted was to make friends, meet boys, and keep on being ordinary. I don't even know what that means anymore. It all started on the day that I saw my first ghost – and the ghost saw me.
Now there are ghosts everywhere and they won't leave me alone. To top it all off, I somehow got myself locked up in Lyle House, a "special home" for troubled teens. Yet the home isn't what it seems. Don't tell anyone, but I think there might be more to my housemates than meets the eye. The question is, whose side are they on? It's up to me to figure out the dangerous secrets behind Lyle House… before its skeletons come back to haunt me
• • •
I love that there's a young adult series set in the same world as Kelley Armstrong's Otherworld series. I think this is the first book I ever read by her, but as you can tell, it was far, far from the last. I definitely thought the adult series was the stronger series, but the Darkest Powers series had a lot to love, too.
Darkness Rising
The first book in this series is The Gathering.
Sixteen-year-old Maya is just an ordinary teen in an ordinary town. Sure, she doesn't know much about her background – the only thing she really has to cling to is an odd paw-print birthmark on her hip – but she never really put much thought into who her parents were or how she ended up with her adopted parents in this tiny medical-research community on Vancouver Island.
Until now.
Strange things have been happening in this claustrophobic town – from the mountain lions that have been approaching Maya to her best friend's hidden talent for "feeling" out people and situations, to the sexy new bad boy who makes Maya feel…different. Combine that with a few unexplained deaths and a mystery involving Maya's biological parents and it's easy to suspect that this town might have more than its share of skeletons in its closet
• • •
I didn't realize this series existed until years after I had finished both the Darkest Powers and Otherworld series, but it continues on in the same world after the events of the Darkest Powers. Again, I felt the Otherworld series is the strongest of the three, but I did really enjoy the characters and powers introduced in these books.
The Mediator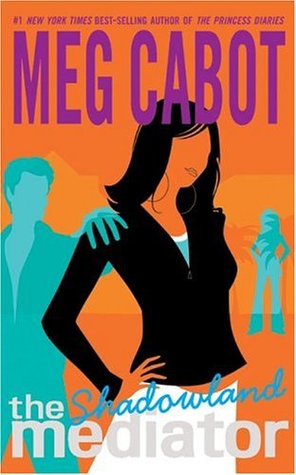 The first book in this series is Shadowland.
Suze is a mediator — a liaison between the living and the dead. In other words, she sees dead people. And they won't leave her alone until she helps them resolve their unfinished business with the living. But Jesse, the hot ghost haunting her bedroom, doesn't seem to need her help. Which is a relief, because Suze has just moved to sunny California and plans to start fresh, with trips to the mall instead of the cemetery, and surfing instead of spectral visitations.
But the very first day at her new school, Suze realizes it's not that easy. There's a ghost with revenge on her mind … and Suze happens to be in the way.
• • •
This was definitely a childhood favorite series, and I about lost my mind when I found out Meg Cabot was releasing a final novella and book targeted at an adult audience years after the original series closer had been released. I've still yet to read Remembrance, mostly because I want to do a full series re-read first, but I'm so excited.
Nadia Stafford
The first book in this series is Exit Strategy.
Nadia Stafford is one of the world's few female contract killers. A former cop, drummed out of the force because of a scandal, she is an expert at disguise and cool under pressure. But when fellow hitman Jack arrives on the scene, Nadia's very private existence is seriously challenged.
A series of victims are being murdered seemingly at random all over the country — different areas, different walks of life, different MOs. There is nothing to tie them together except a random page torn out of a single book: Helter Skelter. But does the Helter Skelter killer — as the hysterical media now dub him — have a real connection to Charles Manson? Or is there something even more sinister at work?
Is this, in fact — as Jack believes — the carefully planned exit strategy of a fellow professional killer, determined to leave the life, but equally determined to clear up an old mistake? And, if so, which is the real victim?
Now, the highly suspicious and secretive hitman community will have to break their cover — at least, to each other — and help take down this killer before the cops and the Feds discover his true connection to their own secret, exclusive society….
• • •
Although this is probably Kelley Armstrong's least well-known series, I love it to pieces. The books are dark and gritty, but the characters feel very real and the plot is gripping. I've been aching to do a re-read for ages, and I'll have to make room for the novellas in the series if I do.
Princess Diaries
The first book in this series is The Princess Diaries.
Mia Thermopolis is pretty sure there's nothing worse than being a five-foot-nine, flat-chested freshman, who also happens to be flunking Algebra. Is she ever in for a surprise.
First Mom announces that she's dating Mia's Algebra teacher. Then Dad has to go and reveal that he is the crown prince of Genovia. And guess who still doesn't have a date for the Cultural Diversity Dance?
• • •
I remember breezing through these books in early high school, but I don't remember much more than that! I though they were a great companion to the much-loved movie, though, and I had fun comparing and contrasting the plots. There are a handful of novellas tucked in there, but I don't believe my library had them, so I didn't even realize they existed until throwing this post together.
Throne of Glass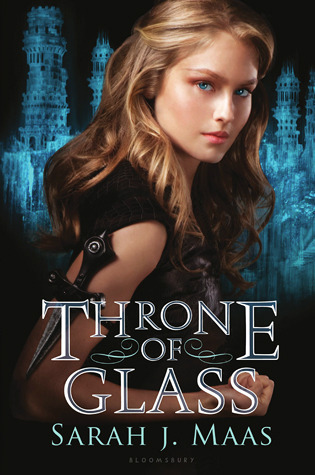 The first book in this series is Throne of Glass.
After serving out a year of hard labor in the salt mines of Endovier for her crimes, 18-year-old assassin Celaena Sardothien is dragged before the Crown Prince. Prince Dorian offers her her freedom on one condition: she must act as his champion in a competition to find a new royal assassin.
Her opponents are men-thieves and assassins and warriors from across the empire, each sponsored by a member of the king's council. If she beats her opponents in a series of eliminations, she'll serve the kingdom for four years and then be granted her freedom. Celaena finds her training sessions with the captain of the guard, Westfall, challenging and exhilarating. But she's bored stiff by court life. Things get a little more interesting when the prince starts to show interest in her … but it's the gruff Captain Westfall who seems to understand her best.
Then one of the other contestants turns up dead … quickly followed by another. Can Celaena figure out who the killer is before she becomes a victim? As the young assassin investigates, her search leads her to discover a greater destiny than she could possibly have imagined.
• • •
I am loving this series. I just recently finished the fourth book, Queen of Shadows, and could totally see myself circling back to finally read the small anthology of prequel novellas before continuing on with the series … gotta make these awesome books last, after all.
---
Real talk, of this entire list, I've only read some of the novellas from the Otherworld series and the Cainsville series. I'm not exaggerating when I say I really don't do novellas and short stories!
I love that there's five series on here by the same author. I simply didn't have enough books to talk about otherwise. Thanks for coming in clutch, as always, Kelley Armstrong 😂 And I'm also amused that about half of these were books I read in high school. Did anyone else struggle immensely with this topic?
Feel free to link your posts this week – I'd love to see all your picks. Check out That Artsy Reader Girl's host post for even more inspiration!
Let's connect!
Goodreads • Instagram • Twitter • Bloglovin'