Stacking The Shelves is hosted by Tygna's Reviews and Reading Reality and is all about sharing the books you are adding to your shelves, may it be physical or virtual. This means you can include books you buy in physical store or online, books you borrow from friends or the library, review books, gifts and of course ebooks!
This week, I added 5 books to my stack! Three in the mystery/thriller category, one YA fantasy, and one YA romance.
If any of these appeal to you, too, check out their Goodreads pages via the links on the cover images.
---
Our Little Secret
A police interview room is the last place Angela expected to find herself today. It's been hours, and they keep asking her the same inane questions over and over. "How do you know the victim?" "What's your relationship with Mr. Parker?" Her ex's wife has gone missing, and anyone who was close to the couple is a suspect. Angela is tired of the bottomless questions and tired of the cold room that stays the same while a rotating litany of interrogators changes shifts around her. But when criminologist Novak takes over, she can tell he's not like the others. He's ready to listen, and she knows he'll understand. When she tells him that her story begins a decade before, long before Saskia was in the picture, he gives her the floor.
A twenty-something young professional, Angela claims to have no involvement. How could she? It's been years since she and H.P., Mr. Parker that is, were together. As her story unfolds, it deepens and darkens. There's a lot to unpack… betrayal, jealousy, and a group of people who all have motives for retribution. If Angela is telling the truth, then who's lying?
 • • •
I've seen a range of reviews for this one, but it caught my eye on Bookstagram and the blurb intrigues me!
Then She Was Gone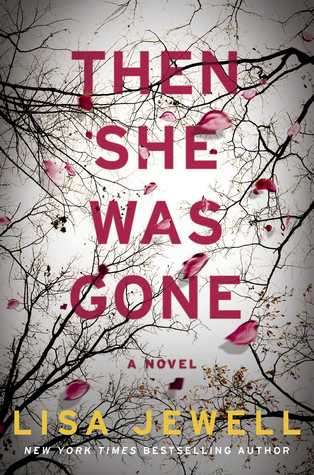 Ten years after her teenage daughter disappears, a woman crosses paths with a charming single father whose young child feels eerily familiar, in this evocative, suspenseful drama from New York Times bestselling author Lisa Jewell—perfect for fans of Paula Hawkins and Liane Moriarty.
Ellie Mack was the perfect daughter. She was fifteen, the youngest of three. She was beloved by her parents, friends, and teachers. She and her boyfriend made a teenaged golden couple. She was days away from an idyllic post-exams summer vacation, with her whole life ahead of her.
And then she was gone.
Now, her mother Laurel Mack is trying to put her life back together. It's been ten years since her daughter disappeared, seven years since her marriage ended, and only months since the last clue in Ellie's case was unearthed. So when she meets an unexpectedly charming man in a café, no one is more surprised than Laurel at how quickly their flirtation develops into something deeper. Before she knows it, she's meeting Floyd's daughters—and his youngest, Poppy, takes Laurel's breath away.
Because looking at Poppy is like looking at Ellie. And now, the unanswered questions she's tried so hard to put to rest begin to haunt Laurel anew. Where did Ellie go? Did she really run away from home, as the police have long suspected, or was there a more sinister reason for her disappearance? Who is Floyd, really? And why does his daughter remind Laurel so viscerally of her own missing girl?
 • • •
Firstly, I love that cover. And secondly, I'm so curious to know the truth behind Ellie's disappearance and Poppy's connection to it!
The Traitor's Game
Nothing is as it seems in the kingdom of Antora. Kestra Dallisor has spent three years in exile in the Lava Fields, but that won't stop her from being drawn back into her father's palace politics. He's the right hand man of the cruel king, Lord Endrick, which makes Kestra a valuable bargaining chip. A group of rebels knows this all too well – and they snatch Kestra from her carriage as she reluctantly travels home.The kidnappers want her to retrieve the lost Olden Blade, the only object that can destroy the immortal king, but Kestra is not the obedient captive they expected. Simon, one of her kidnappers, will have his hands full as Kestra tries to foil their plot, by force, cunning, or any means necessary. As motives shift and secrets emerge, both will have to decide what – and who – it is they're fighting for.
 • • •
Crossing my fingers I can make May my month of all the YA fantasy novels 🤞🤞🤞
The Word is Murder
A wealthy woman strangled six hours after she's arranged her own funeral.
A very private detective uncovering secrets but hiding his own.
A reluctant author drawn into a story he can't control.
What do they have in common?
Unexpected death, an unsolved mystery and a trail of bloody clues lie at the heart of Anthony Horowitz's page-turning new thriller.
 • • •
I am so fascinated by the meta-ness in this novel. Horowitz writing himself into his own mystery? I'm sure I'm going to be thoroughly entertained. This was snagged from Edelweiss and will be re-released in June.
All the Little Lights
The first time Elliott Youngblood spots Catherine Calhoun, he's just a boy with a camera, and he's never seen a sadder and more beautiful sight. Both Elliott and Catherine feel like outcasts, yet they find an easy friendship with each other. But when Catherine needs him most, Elliott is forced to leave town.
Elliott finally returns, but he and Catherine are now different people. He's a star high school athlete, and she spends all her free time working at her mother's mysterious bed-and-breakfast. Catherine hasn't forgiven Elliott for abandoning her, but he's determined to win back her friendship…and her heart.
Just when Catherine is ready to fully trust Elliott, he becomes the prime suspect in a local tragedy. Despite the town's growing suspicions, Catherine clings to her love for Elliott. But a devastating secret that Catherine has buried could destroy whatever chance of happiness they have left.
 • • •
All the Little Lights will be released at the end of May, and I'm grateful to NetGalley for providing an advance reader's copy. Not my usual genre, but this one sounds sweet and moving, and I can't wait to give it a read!
---
That's my haul! I can't decide which one I'm looking forward to most …
Any of these books on your radar? What did you add to your stacks this week?
Let's connect!
Goodreads • Instagram • Twitter • Bloglovin'