Welcome to WWW Wednesday! This meme is hosted by Sam @ Taking on a World of Words. It's simple – just answer the three questions below. And check out her post this week to get inspired by what everyone else is reading!
The Three Ws are:
What are you currently reading?
What did you recently finish reading?
What do you think you'll read next?
---
Currently Reading: Macbeth
He's the best cop they've got. 
When a drug bust turns into a bloodbath it's up to Inspector Macbeth and his team to clean up the mess. 
He's also an ex-drug addict with a troubled past. 
He's rewarded for his success. Power. Money. Respect. They're all within reach.
But a man like him won't get to the top.
Plagued by hallucinations and paranoia, Macbeth starts to unravel. He's convinced he won't get what is rightfully his. 
Unless he kills for it.
 • • •
I'll admit I'm only about 5 pages into this one, and part of that is because the first several pages were and extensive description of a raindrop's trajectory as a method for describing the whole town layout … it was a lot. But I've wanted to give Jo Nesbø's work a shot for ages, and the Shakespeare-retelling premise has me intrigued, so I'm going to dive into it soon!
Recently Finished: The Death and Life of Eleanor Parker
A village with something to hide.
Seventeen-year-old Eleanor Parker wakes up cold and alone in the river that twists through her quiet village. She has no memory of how she got there. But she does know that another girl was drowned in the same river the summer before, held under the water by an unknown killer…
A community torn apart.
Eleanor is a normal, every day teenager. She argues with her mum, spends her days with her best friend, and is looking forward to a carefree summer of sunshine and music. Who would want to hurt her?
A shocking secret.
Determined to unlock the mystery of what really happened to her, Eleanor can't escape the feeling that something awful links her to the previous summer's murder. But will she find out the truth before it's too late?
A gripping and extraordinary coming of age novel that will make you question everything and keep you guessing until the very end.
 • • •
The lovely Zuky brought this one to my attention with her fabulous NetGalley Picks of the Week post (if you're not following her, you need to immediately!), and I'm so glad she did. It was a super fun and quirky read with a fascinating premise. My review for this one should be up this weekend!
Reading Next: Beartown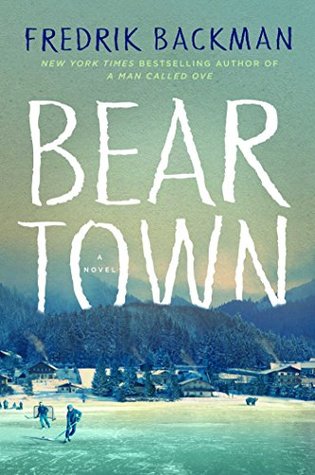 People say Beartown is finished. A tiny community nestled deep in the forest, it is slowly losing ground to the ever encroaching trees. But down by the lake stands an old ice rink, built generations ago by the working men who founded this town. And in that ice rink is the reason people in Beartown believe tomorrow will be better than today. Their junior ice hockey team is about to compete in the national semi-finals, and they actually have a shot at winning. All the hopes and dreams of this place now rest on the shoulders of a handful of teenage boys.
Being responsible for the hopes of an entire town is a heavy burden, and the semi-final match is the catalyst for a violent act that will leave a young girl traumatized and a town in turmoil. Accusations are made and, like ripples on a pond, they travel through all of Beartown, leaving no resident unaffected.
Beartown explores the hopes that bring a small community together, the secrets that tear it apart, and the courage it takes for an individual to go against the grain. In this story of a small forest town, Fredrik Backman has found the entire world.
 • • •
How many amazing reviews have I seen for this novel? Too many times to be able to continue justifying me not having read it. I love the concept behind the story and can't wait to feel all the emotions I just know this book is gonna wring out of me.
---
And that's a current snapshot of my books! Have you read any of these? What does your WWW look like?
Let's connect!
Goodreads • Instagram • Twitter • Bloglovin'