Stacking The Shelves is hosted by Tygna's Reviews and Reading Reality and is all about sharing the books you are adding to your shelves, may it be physical or virtual. This means you can include books you buy in physical store or online, books you borrow from friends or the library, review books, gifts and of course ebooks!
Here's the books that made their way into my hands this week. No super recent releases, but all ones I've been eyeing for quite some time!
If any of these appeal to you, too, check out their Goodreads pages via the links on the cover images.
---
A Gentleman's Guide to Vice and Virtue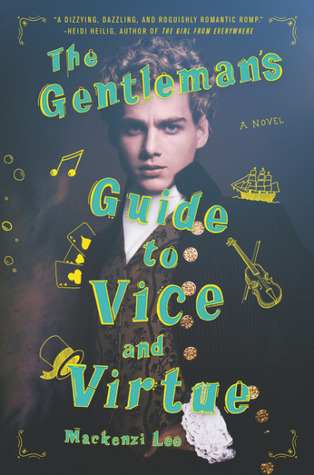 Henry "Monty" Montague was born and bred to be a gentleman, but he was never one to be tamed. The finest boarding schools in England and the constant disapproval of his father haven't been able to curb any of his roguish passions—not for gambling halls, late nights spent with a bottle of spirits, or waking up in the arms of women or men.
But as Monty embarks on his Grand Tour of Europe, his quest for a life filled with pleasure and vice is in danger of coming to an end. Not only does his father expect him to take over the family's estate upon his return, but Monty is also nursing an impossible crush on his best friend and traveling companion, Percy.
Still it isn't in Monty's nature to give up. Even with his younger sister, Felicity, in tow, he vows to make this yearlong escapade one last hedonistic hurrah and flirt with Percy from Paris to Rome. But when one of Monty's reckless decisions turns their trip abroad into a harrowing manhunt that spans across Europe, it calls into question everything he knows, including his relationship with the boy he adores.
 • • •
I decided I was going to go the library hold route on this one, and ended up like 117th in the queue back when I put my request in. So I've been dying to read this for ages, but just now got my hands on it. I couldn't be more excited!
House of Silk
London, 1890. 221B Baker St. A fine art dealer named Edmund Carstairs visits Sherlock Holmes and Dr John Watson to beg for their help. He is being menaced by a strange man in a flat cap – a wanted criminal who seems to have followed him all the way from America. In the days that follow, his home is robbed, his family is threatened. And then the first murder takes place.
Almost unwillingly, Holmes and Watson find themselves being drawn ever deeper into an international conspiracy connected to the teeming criminal underworld of Boston, the gaslit streets of London, opium dens and much, much more. And as they dig, they begin to hear the whispered phrase-the House of Silk-a mysterious entity that connects the highest levels of government to the deepest depths of criminality. Holmes begins to fear that he has uncovered a conspiracy that threatens to tear apart the very fabric of society.
The Arthur Conan Doyle Estate chose the celebrated, #1 New York Times bestselling author Anthony Horowitz to write The House of Silk because of his proven ability to tell a transfixing story and for his passion for all things Holmes. Destined to become an instant classic, The House of Silk brings Sherlock Holmes back with all the nuance, pacing, and almost superhuman powers of analysis and deduction that made him the world's greatest detective, in a case depicting events too shocking, too monstrous to ever appear in print…until now.
 • • •
I've had my eye on Horowitz's Sherlock Holmes series for quite some time, but it totally slipped my mind. Not long ago, I read The Word is Murder not long ago, and it was so quirky and interesting that I couldn't help but re-prioritize The House of Silk.
Caraval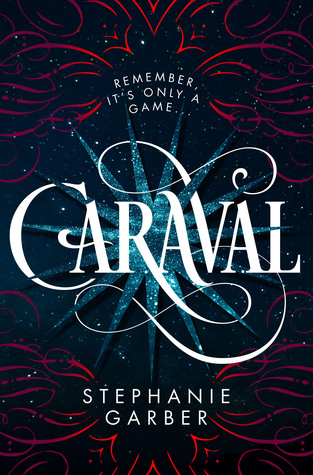 Remember, it's only a game…
Scarlett Dragna has never left the tiny island where she and her sister, Tella, live with their powerful, and cruel, father. Now Scarlett's father has arranged a marriage for her, and Scarlett thinks her dreams of seeing Caraval—the faraway, once-a-year performance where the audience participates in the show—are over.
But this year, Scarlett's long-dreamt-of invitation finally arrives. With the help of a mysterious sailor, Tella whisks Scarlett away to the show. Only, as soon as they arrive, Tella is kidnapped by Caraval's mastermind organizer, Legend. It turns out that this season's Caraval revolves around Tella, and whoever finds her first is the winner.
Scarlett has been told that everything that happens during Caraval is only an elaborate performance. Nevertheless she becomes enmeshed in a game of love, heartbreak, and magic. And whether Caraval is real or not, Scarlett must find Tella before the five nights of the game are over or a dangerous domino effect of consequences will be set off, and her beloved sister will disappear forever.
Welcome, welcome to Caraval…beware of getting swept too far away.
 • • •
I know I'm late to the game on this one, but it sounds like the kind of YA fantasy right up my alley. Fingers crossed it's as awesome as I'm hoping!
---
And that's it! I'm doing a much better job of curbing the desire to get my hands on all the books 😉
Any of these books on your radar? What did you add to your stacks this week?
Let's connect!
Goodreads • Instagram • Twitter • Bloglovin'