Welcome to WWW Wednesday! This meme is hosted by Sam @ Taking on a World of Words. It's simple – just answer the three questions below. And check out her post this week to get inspired by what everyone else is reading!
The Three Ws are:
What are you currently reading?
What did you recently finish reading?
What do you think you'll read next?
---
Currently Reading: Daughter of the Siren Queen
Alosa's mission is finally complete. Not only has she recovered all three pieces of the map to a legendary hidden treasure, but the pirates who originally took her captive are now prisoners on her ship. Still unfairly attractive and unexpectedly loyal, first mate Riden is a constant distraction, but now he's under her orders. And she takes great comfort in knowing that the villainous Vordan will soon be facing her father's justice.
When Vordan exposes a secret her father has kept for years, Alosa and her crew find themselves in a deadly race with the feared Pirate King. Despite the danger, Alosa knows they will recover the treasure first . . . after all, she is the daughter of the Siren Queen.
 • • •
I'm so happy I get to finally dive back into Alosa's world! I just started this one last night, and even within the first fifty pages, I'm remembering all the bits and pieces I loved about Daughter of the Pirate KingDaughter of the Pirate King.
Recently Finished: Look for Me
The home of a family of five is now a crime scene: four of them savagely murdered, one—a sixteen-year-old girl—missing. Was she lucky to have escaped? Or is her absence evidence of something sinister? Detective D. D. Warren is on the case—but so is survivor-turned-avenger Flora Dane. Seeking different types of justice, they must make sense of the clues left behind by a young woman who, whether as victim or suspect, is silently pleading, Look for me.
 • • •
This was my first Lisa Gardner book, and I loved it. I'm excited to write my review for it later this week, but in the meantime, just know that I thought all the characters were intriguing and the plot kept me guessing. I need to check out more of her writing, including the rest of the books in the Detective D.D. Warren series.
Reading Next: Not That I Could Tell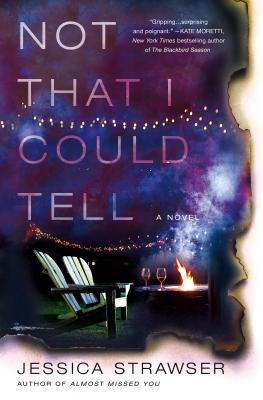 When a group of neighborhood women gathers, wine in hand, around a fire pit where their backyards meet one Saturday night, most of them are just ecstatic to have discovered that their baby monitors reach that far. It's a rare kid-free night, and they're giddy with it. They drink too much, and the conversation turns personal.
By Monday morning, one of them is gone.
Everyone knows something about everyone else in the quirky small Ohio town of Yellow Springs, but no one can make sense of the disappearance. Kristin was a sociable twin mom, college administrator, and doctor's wife who didn't seem all that bothered by her impending divorce—and the investigation turns up more questions than answers, with her husband, Paul, at the center. For her closest neighbor, Clara, the incident triggers memories she thought she'd put behind her—and when she's unable to extract herself from the widening circle of scrutiny, her own suspicions quickly grow. But the neighborhood's newest addition, Izzy, is determined not to jump to any conclusions—especially since she's dealing with a crisis of her own.
As the police investigation goes from a media circus to a cold case, the neighbors are forced to reexamine what's going on behind their own closed doors—and to ask how well anyone really knows anyone else.
 • • •
I've been hearing plenty of buzz about this book, and it's right up my alley. Why do domestic neighborhood thrillers speak to me so much?
---
And that's a current snapshot of my books! Have you read any of these? What does your WWW look like?
Let's connect!
Goodreads • Instagram • Twitter • Bloglovin'