Welcome to WWW Wednesday! This meme is hosted by Sam @ Taking on a World of Words. It's simple – just answer the three questions below. And check out her post this week to get inspired by what everyone else is reading!
The Three Ws are:
What are you currently reading?
What did you recently finish reading?
What do you think you'll read next?
---
Currently Reading: Sirens
Infiltrating the inner circle of enigmatic criminal Zain Carver is dangerous enough. Pulling it off while also rescuing Isabelle Rossiter, a runaway politician's daughter, from Zain's influence? Impossible. That's why Aidan Waits is the perfect man for the job. Disgraced, emotionally damaged and despised by his superiors. In other words, completely expendable.
But Aidan is a born survivor. And as he works his way deep into Zain's shadowy world, he finds that nothing is as it seems. Zain is a mesmerizing, Gatsby-esque figure who lures young women into his orbit–women who have a bad habit of turning up dead. But is Zain really responsible? And will Isabelle be next?
Before long, Aidan finds himself in over his head, cut loose by his superiors, and dangerously attracted to the wrong woman.
How can he save the girl if he can't even save himself?
 • • •
I'm about 50 pages into this one (and it's due back at the library today … oops) and having some trouble getting into it. You're really thrust into the middle of the action right away. I'm hoping once I have a better handle on the characters and politics I'll be able to immerse myself more in the plot!
Recently Finished: The Echo Killing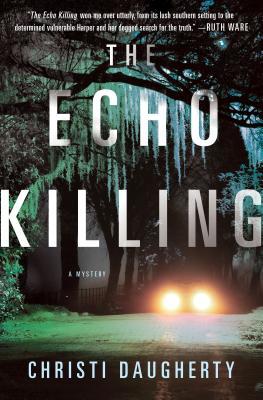 When a murder echoing a fifteen-year-old cold case rocks the Southern town of Savannah, crime reporter Harper McClain risks everything to find the identity of this calculated killer.
A city of antebellum architecture, picturesque parks, and cobblestone streets, Savannah moves at a graceful pace. But for Harper McClain, the timeless beauty and culture that distinguishes her home's Southern heritage vanishes during the dark and dangerous nights. She wouldn't have it any other way. Not even finding her mother brutally murdered in their home when she was twelve has made her love Savannah any less.
Her mother's killer was never found, and that unsolved murder left Harper with an obsession that drove her to become one of the best crime reporters in the state of Georgia. She spends her nights with the police, searching for criminals. Her latest investigation takes her to the scene of a homicide where the details are hauntingly familiar: a young girl being led from the scene by a detective, a female victim naked and stabbed multiple times in the kitchen, and no traces of any evidence pointing towards a suspect.
Harper has seen all of this before in her own life. The similarities between the murder of Marie Whitney and her own mother's death lead her to believe they're both victims of the same killer. At last, she has the chance to find the murderer who's eluded justice for fifteen years and make sure another little girl isn't forever haunted by a senseless act of violence―even if it puts Harper in the killer's cross-hairs…
 • • •
I adored this book! It's just as atmospheric and character-driven as the blurb suggests, and if that doesn't catch your interest, the narrator being a crime reporter is such a unique and refreshing twist. I absolutely can't wait for the next book in this series. Check out my review here!
Reading Next: Bone Music
There's more than one way to stoke the flames of revenge…
Charlotte Rowe spent the first seven years of her life in the hands of the only parents she knew—a pair of serial killers who murdered her mother and tried to shape Charlotte in their own twisted image. If only the nightmare had ended when she was rescued. Instead, her real father exploited her tabloid-ready story for fame and profit—until Charlotte finally broke free from her ghoulish past and fled. Just when she thinks she has buried her personal hell forever, Charlotte is swept into a frightening new ordeal. Secretly dosed with an experimental drug, she's endowed with a shocking new power—but pursued by a treacherous corporation desperate to control her.
Except from now on, if anybody is going to control Charlotte, it's going to be Charlotte herself. She's determined to use the extraordinary ability she now possesses to fight the kind of evil that shattered her life—by drawing a serial killer out from the shadows to face the righteous fury of a victim turned avenger.
 • • •
I'm very excited to get to this one. Charlotte sounds like a force to be reckoned with, and then you add powers to that mix? It sounds like it might just be the clash of urban fantasy and thriller that I love most in the world. I'm intrigued, that's for sure.
---
And that's a current snapshot of my books! Have you read any of these? What does your WWW look like?
Let's connect!
Goodreads • Instagram • Twitter • Bloglovin'