Stacking The Shelves is hosted by Tygna's Reviews and Reading Reality and is all about sharing the books you are adding to your shelves, may it be physical or virtual. This means you can include books you buy in physical store or online, books you borrow from friends or the library, review books, gifts and of course ebooks!
I just posted in my April TBR that I want to start waning myself off these crime/thriller/mystery heavy months I've been setting myself up for … and then I go and have a book haul entirely of those genres. Well. It's a work in progress.
If any of the books below sound appealing to you, check out their Goodreads pages via the cover image links.
---
Blackout
On the shores of a tranquil fjord in Northern Iceland, a man is brutally beaten to death on a bright summer's night. As the 24-hour light of the arctic summer is transformed into darkness by an ash cloud from a recent volcanic eruption, a young reporter leaves Reykajvik to investigate on her own, unaware that an innocent person's life hangs in the balance. Ari Thor Arason and his colleagues on the tiny police force in Siglufjordur struggle with an increasingly perplexing case, while their own serious personal problems push them to the limit. What secrets does the dead man harbour, and what is the young reporter hiding? As silent, unspoken horrors from the past threaten them all, and the darkness deepens, it's a race against time to find the killer before someone else dies…
Dark, terrifying and complex, Blackout is an exceptional, atmospheric thriller from one of Iceland's finest crime writers.
 • • •
I've heard great things about Ragnar Jónasson's Dark Iceland series, and snagging this third book of NetGalley looks like it'll be the inspiration I need to give my first Nordic Noir series a go.
Not That I Could Tell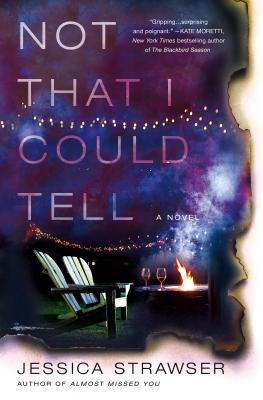 When a group of neighborhood women gathers, wine in hand, around a fire pit where their backyards meet one Saturday night, most of them are just ecstatic to have discovered that their baby monitors reach that far. It's a rare kid-free night, and they're giddy with it. They drink too much, and the conversation turns personal.
By Monday morning, one of them is gone.
Everyone knows something about everyone else in the quirky small Ohio town of Yellow Springs, but no one can make sense of the disappearance. Kristin was a sociable twin mom, college administrator, and doctor's wife who didn't seem all that bothered by her impending divorce—and the investigation turns up more questions than answers, with her husband, Paul, at the center. For her closest neighbor, Clara, the incident triggers memories she thought she'd put behind her—and when she's unable to extract herself from the widening circle of scrutiny, her own suspicions quickly grow. But the neighborhood's newest addition, Izzy, is determined not to jump to any conclusions—especially since she's dealing with a crisis of her own.
As the police investigation goes from a media circus to a cold case, the neighbors are forced to reexamine what's going on behind their own closed doors—and to ask how well anyone really knows anyone else.
 • • •
I read a bunch of wonderful reviews for this novel after it was a Book of the Month, and now I need to see what all the hype is about! I'm really digging this "neighbors" theme that keeps cropping up in books as of late.
Too Close to Breathe
TOO SOON TO SEE
Polished. Professional. Perfect. Dead. Respected scientist Dr Eleanor Costello is found hanging in her immaculate home: the scene the very picture of a suicide.
TOO LATE TO HIDE
DCS Frankie Sheehan is handed the case, and almost immediately spots foul play. Sheehan, a trained profiler, is seeking a murderer with a talent for death.
TOO CLOSE TO BREATHE
As Frankie strives to paint a picture of the killer, and their victim, she starts to sense they are part of a larger, darker canvas, on which the lines between the two blur.
 • • •
I'm kind of a sucker for when open-and-shut suicide cases aren't what they seem, so this blurb intrigues me. I've seen enough reviews of this debut that I know I want to give it a shot!
Red Sparrow
In present-day Russia, ruled by blue-eyed, unblinking President Vladimir Putin, Russian intelligence officer Dominika Egorova struggles to survive in the post-Soviet intelligence jungle. Ordered against her will to become a "Sparrow," a trained seductress, Dominika is assigned to operate against Nathaniel Nash, a young CIA officer who handles the Agency's most important Russian mole.
Spies have long relied on the "honey trap," whereby vulnerable men and women are intimately compromised. Dominika learns these techniques of "sexpionage" in Russia's secret "Sparrow School," hidden outside of Moscow. As the action careens between Russia, Finland, Greece, Italy, and the United States, Dominika and Nate soon collide in a duel of wills, tradecraft, and—inevitably—forbidden passion that threatens not just their lives but those of others as well. As secret allegiances are made and broken, Dominika and Nate's game reaches a deadly crossroads. Soon one of them begins a dangerous double existence in a life-and-death operation that consumes intelligence agencies from Moscow to Washington, DC.
 • • •
I know almost nothing about the movie adaptation other than it exists and reminded me I wanted to read this once-upon-a-time, and it's been awhile since I've read a good espionage thriller. I've also had my eye on it for awhile to either hit the title-with-an-animal or title-with-your-favorite-color prompt for the Popsugar Reading Challenge this year.
---
Any of these books on your radar? What did you add to your stacks this week?
Let's connect!
Goodreads • Instagram • Twitter • Bloglovin'