Stacking The Shelves is hosted by Tygna's Reviews and Reading Reality and is all about sharing the books you are adding to your shelves, may it be physical or virtual. This means you can include books you buy in physical store or online, books you borrow from friends or the library, review books, gifts and of course ebooks!
I did better than last week! But I still grabbed a good handful. There's a mix of crime fiction, thriller, historical fiction, and urban fantasy in here that all caught my eye. If any sound appealing to you, check out their Goodreads pages via the cover image links.
---
Mister Tender's Girl
At fourteen, Alice Hill was viciously attacked by two of her classmates and left to die. The teens claim she was a sacrifice for a man called Mister Tender, but that could never be true: Mister Tender doesn't exist. His sinister character is pop-culture fiction, created by Alice's own father in a series of popular graphic novels.
Over a decade later, Alice has changed her name and is trying to heal. But someone is watching her. They know more about Alice than any stranger could: her scars, her fears, and the secrets she keeps locked away. She can try to escape her past, but Mister Tender is never far behind. He will come with a smile that seduces, and a dark whisper in her ear…
 • • •
I had no clue what this book was when it started popping up on my Goodreads feeds, but I definitely fell prey to judging it by its title and cover – and not in a good way. It wasn't until recently that I actually figured out what it was about and was instantly intrigued. Based off the real Slenderman stabbings, this one's bound to be dark and creepy.
Look for Me
The home of a family of five is now a crime scene: four of them savagely murdered, one—a sixteen-year-old girl—missing. Was she lucky to have escaped? Or is her absence evidence of something sinister? Detective D. D. Warren is on the case—but so is survivor-turned-avenger Flora Dane. Seeking different types of justice, they must make sense of the clues left behind by a young woman who, whether as victim or suspect, is silently pleading, Look for me.
 • • •
I haven't read anything else in this series – or by this author – but I'm told it doesn't matter. There have been some good reviews for this one that have convinced me to give it a shot, and it looks like a solid and entertaining crime read.
Screams You Hear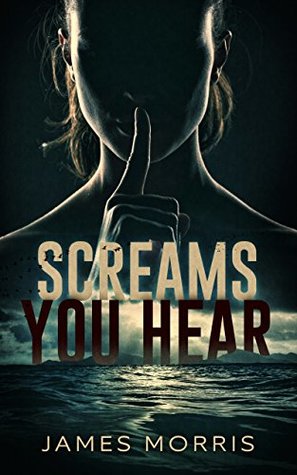 Murder and madness infect a small town.
For sixteen-year-old Ruthie Stroud, life on tiny Hemlock Island in the Pacific Northwest is an endless sea of boring green, in a place where everybody knows everybody's business and nothing ever happens. Then her world is ripped apart when her parents divorce and a new man enters her mother's life. But worse is yet to come.
When she drifts ashore on the mainland, hideously burned, Ruthie has a harrowing tale to tell. It begins with the murder of a family. It ends with her being the sole survivor of a cataclysm that sweeps her little island. As a detective attempts to unravel Ruthie's story of murder and madness, only one horrifying conclusion can be drawn: whatever was isolated on remote Hemlock Island may now have come to the mainland. Is Ruthie safe? Is anyone?
 • • •
This one's a review copy that I'm excited to get to – it looks uniquely creepy and thrilling, and all signs point to the ending being full of surprises!
I Was Anastasia
Russia, July 17, 1918 Under direct orders from Vladimir Lenin, Bolshevik secret police force Anastasia Romanov, along with the entire imperial family, into a damp basement in Siberia where they face a merciless firing squad. None survive. At least that is what the executioners have always claimed.
Germany, February 17, 1920 A young woman bearing an uncanny resemblance to Anastasia Romanov is pulled shivering and senseless from a canal in Berlin. Refusing to explain her presence in the freezing water, she is taken to the hospital where an examination reveals that her body is riddled with countless, horrific scars. When she finally does speak, this frightened, mysterious woman claims to be the Russian Grand Duchess Anastasia.
Her detractors, convinced that the young woman is only after the immense Romanov fortune, insist on calling her by a different name: Anna Anderson.
As rumors begin to circulate through European society that the youngest Romanov daughter has survived the massacre, old enemies and new threats are awakened.
 • • •
I'm not a big historical fiction reader, but I adore all incarnations of the Anastasia tale and have heard wonderful things about this version of it.
Rough Justice
Mallt-y-Nos. Matilda of the Hunt. The lone woman who rides with the Wild Hunt, tasked with finding killers who've escaped justice and letting the hounds reap their souls. For Olivia Taylor-Jones, Matilda isn't just a legendary figure from Welsh lore. She is Olivia's past, and her future, one she's finally embraced.
Having accepted her role as Matilda, Olivia must now lead her first Hunt. Seems simple enough. But when she questions their target's guilt, the Hunt is halted, her mission failed. Still, it's just a matter of getting Gabriel's help and investigating the man's past to reassure herself that he's guilty. He must be. Otherwise, he wouldn't be a target. But the deeper she digs, the more problems she finds, until she must question everything she knows about the Hunt and the choice she's made.
 • • •
If you know me at all, you know I love Kelley Armstrong! This novella is set after the conclusion of her Cainsville series, and I'm excited to have a review copy to be able to dive back into the lives of Liv, Gabriel, and Ricky!
---
One of these weeks I'll acquire few enough books that I'll finally be reading more than I'm getting, and I'll stop getting stressed looking at my hauls even if they're all great reads 😂
Any of these books on your radar? What did you add to your stacks this week?
Let's connect!
Goodreads • Instagram • Twitter • Bloglovin'