Top Ten Tuesday was created by The Broke and the Bookish in June of 2010 and was moved to That Artsy Reader Girl in January of 2018. It was born of a love of lists, a love of books, and a desire to bring bookish friends together.
This was such a fun prompt. Most of these are books I've already read and adored for the way they transported me to other places, but a couple I've yet to tackle and just look wonderful! All of the book covers link to their Goodreads pages in case the travel bug bites you, too.
---
The Liar's Girl (Ireland)
Will Hurley was an attractive, charming, and impressive student at Dublin's elite St. John's College-and Ireland's most prolific serial killer. Having stalked his four young victims, he drowned them in the muddy waters of the Grand Canal. Sentenced to life imprisonment when he was just nineteen, Will is locked away in the city's Central Psychiatric Hospital.
Freshman Alison Smith moved to the Big Smoke to enrol in St. John's and soon fell hard for Will Hurley. Her world bloomed … and then imploded when Liz, her best friend, became the latest victim of the Canal Killer-and the Canal Killer turned out to be the boy who'd been sleeping in her bed. Alison fled to the Netherlands and, in ten years, has never once looked back.
When a young woman's body is found in the Grand Canal, Garda detectives visit Will to see if he can assist them in solving what looks like a copycat killing. Instead, Will tells them he has something new to confess-but there's only one person he's prepared to confess it to. The last thing Alison wants is to be pulled back into the past she's worked so hard to leave behind. Reluctantly, she returns to the city she hasn't set foot in for more than a decade to face the man who murdered the woman she was supposed to become.
Only to discover that, until now, Will has left out the worst part of all …
• • •
I adore this book to pieces. It's far from your typical thriller; instead, it's a character-driven slow burn where the mystery is incidental to the exploration of Alison's character, both then as a freshman in love with Will Hurley, and now, a decade later, still unable to come to terms with the heinous crimes he has committed. The writing is also gorgeous and descriptive, and I loved the picture it paints of Dublin.
The Thief Lord (Italy)
Welcome to the magical underworld of Venice, Italy. Here, hidden canals and crumbling rooftops shelters runaways and children with incredible secrets….
After escaping from their cruel aunt and uncle, orphans Prosper and Bo meet a mysterious boy who calls himself the "Thief Lord." Clever and charming, The Thief Lord leads a band of street children who enjoy making mischief. But the Thief Lord also has a dark secret. And suddenly Prosper and Bo find themselves on a fantastical journey to a forgotten place. What they discover there will change the course of their destiny… forever.
• • •
Fun fact, when I was in elementary school, I read this book once a day every day for two weeks straight.
(… I had a completely normal childhood …)
Real talk, though, I love Cornelia Funke's novels, and the charm of Venice from this ragtag group's perspective still warms my heart to this day.
This Is How It Always Is (Thailand)
This is how a family keeps a secret…and how that secret ends up keeping them.
This is how a family lives happily ever after…until happily ever after becomes complicated.
This is how children change…and then change the world.
This is Claude. He's five years old, the youngest of five brothers, and loves peanut butter sandwiches. He also loves wearing a dress, and dreams of being a princess.
When he grows up, Claude says, he wants to be a girl.
Rosie and Penn want Claude to be whoever Claude wants to be. They're just not sure they're ready to share that with the world. Soon the entire family is keeping Claude's secret. Until one day it explodes.
This Is How It Always Is is a novel about revelations, transformations, fairy tales, and family. And it's about the ways this is how it always is: Change is always hard and miraculous and hard again, parenting is always a leap into the unknown with crossed fingers and full hearts, children grow but not always according to plan. And families with secrets don't get to keep them forever
• • •
Okay, so only part of it takes place it Thailand, but this book is so beautiful and absolutely begged to be included. This is such a poignant exploration of family, identity, and acceptance, and it's forever going to be a favorite of mine. The portion of the book set in Thailand also gives me major nostalgia for when I spent six weeks living there myself – the descriptions of the cultural differences and the raw beauty are spot on.
Bel Canto (South America)
In an unnamed South American country, a world-renowned soprano sings at a birthday party in honor of a visiting Japanese industrial titan. Alas, in the opening sequence, a ragtag band of 18 terrorists enters the vice-presidential mansion through the air conditioning ducts. Their quarry is the president, who has unfortunately stayed home to watch a favorite soap opera. And thus, from the beginning, things go awry.
Among the hostages are Russian, Italian, and French diplomatic types. Swiss Red Cross negotiator oachim Messner comes and goes, wrangling over terms and demands. Days stretch into weeks, the weeks into months. Joined by no common language except music, the 58 international hostages and their captors forge unexpected bonds. Time stands still, priorities rearrange themselves. Ultimately, of course, something has to give.
• • •
Yes, I know South America's not a country, but I'm counting this because it's one of my favorite books ever, and I really wanted it on this list even if there's never an actual country name given. I'm long overdue for a reread, but I remember falling in love with the intricate relationships between the captors and hostages – none of whom expected to end up in the situation they're now stuck in.
City of the Lost (Canada)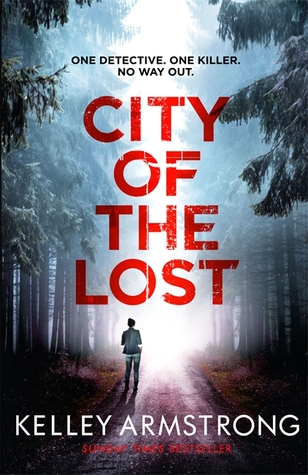 Casey Duncan is a homicide detective with a secret: when she was in college, she killed a man. She was never caught, but he was the grandson of a mobster and she knows that someday this crime will catch up to her. Casey's best friend, Diana, is on the run from a violent, abusive ex-husband. When Diana's husband finds her, and Casey herself is attacked shortly after, Casey knows it's time for the two of them to disappear again.
Diana has heard of a town made for people like her, a town that takes in people on the run who want to shed their old lives. You must apply to live in Rockton and if you're accepted, it means walking away entirely from your old life, and living off the grid in the wilds of Canada: no cell phones, no Internet, no mail, no computers, very little electricity, and no way of getting in or out without the town council's approval. As a murderer, Casey isn't a good candidate, but she has something they want: She's a homicide detective, and Rockton has just had its first real murder. She and Diana are in. However, soon after arriving, Casey realizes that the identity of a murderer isn't the only secret Rockton is hiding—in fact, she starts to wonder if she and Diana might be in even more danger in Rockton than they were in their old lives.
• • •
Kelley Armstrong is hands-down my favorite author, and I will read anything she cranks out. This is a fact. City of the Lost and its follow-ups are turning out to be one of my absolute favorite series that she's written – the plots and characters are so strong, and I love the creatively claustrophobic and isolated setting of the Rockton town. The third book in the series, This Fallen Prey, is sitting on my nightstand side-eyeing me so hard whenever I pick up another book that's not it.
Warcross (Japan)
For the millions who log in every day, Warcross isn't just a game—it's a way of life. The obsession started ten years ago and its fan base now spans the globe, some eager to escape from reality and others hoping to make a profit. Struggling to make ends meet, teenage hacker Emika Chen works as a bounty hunter, tracking down players who bet on the game illegally. But the bounty hunting world is a competitive one, and survival has not been easy. Needing to make some quick cash, Emika takes a risk and hacks into the opening game of the international Warcross Championships—only to accidentally glitch herself into the action and become an overnight sensation.
Convinced she's going to be arrested, Emika is shocked when instead she gets a call from the game's creator, the elusive young billionaire Hideo Tanaka, with an irresistible offer. He needs a spy on the inside of this year's tournament in order to uncover a security problem . . . and he wants Emika for the job. With no time to lose, Emika's whisked off to Tokyo and thrust into a world of fame and fortune that she's only dreamed of. But soon her investigation uncovers a sinister plot, with major consequences for the entire Warcross empire.
• • •
High key loved Warcross. High key raced to pre-order Wildcard last night. This is such a fun and immersive adventure with descriptions as vibrant as its cover and a wonderfully diverse cast of characters. I had a lot of fun losing myself in the virtual worlds in which they competed – and in the real world, with virtual reality layered over the bustle of Tokyo. I can't wait for more of Emika and her teammates this fall!
The Gentleman's Guide to Vice and Virtue (France)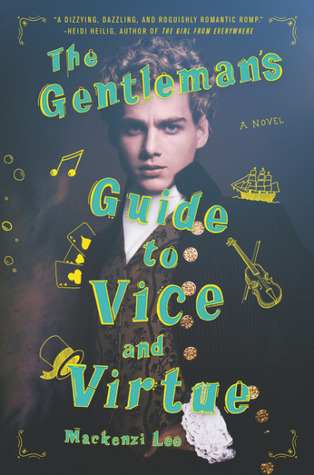 Henry "Monty" Montague was born and bred to be a gentleman, but he was never one to be tamed. The finest boarding schools in England and the constant disapproval of his father haven't been able to curb any of his roguish passions—not for gambling halls, late nights spent with a bottle of spirits, or waking up in the arms of women or men.
But as Monty embarks on his Grand Tour of Europe, his quest for a life filled with pleasure and vice is in danger of coming to an end. Not only does his father expect him to take over the family's estate upon his return, but Monty is also nursing an impossible crush on his best friend and traveling companion, Percy.
Still it isn't in Monty's nature to give up. Even with his younger sister, Felicity, in tow, he vows to make this yearlong escapade one last hedonistic hurrah and flirt with Percy from Paris to Rome. But when one of Monty's reckless decisions turns their trip abroad into a harrowing manhunt that spans across Europe, it calls into question everything he knows, including his relationship with the boy he adores.
• • •
I know that it takes place all over Europe, but I also haven't read it yet, so thanks Goodreads and plot synopsis, France it is! I'm really excited to give this one a go, but I'm possibly even more excited for the next book, The Lady's Guide to Petticoats and Piracy coming out later this year. Um, it sounds amazing??
The Dry (Australia)
After getting a note demanding his presence, Federal Agent Aaron Falk arrives in his hometown for the first time in decades to attend the funeral of his best friend, Luke. Twenty years ago when Falk was accused of murder, Luke was his alibi. Falk and his father fled under a cloud of suspicion, saved from prosecution only because of Luke's steadfast claim that the boys had been together at the time of the crime. But now more than one person knows they didn't tell the truth back then, and Luke is dead.
Amid the worst drought in a century, Falk and the local detective question what really happened to Luke. As Falk reluctantly investigates to see if there's more to Luke's death than there seems to be, long-buried mysteries resurface, as do the lies that have haunted them. And Falk will find that small towns have always hidden big secrets.
• • •
The Dry and its sequel, Force of Nature, are some of the most gorgeously atmospheric novels I've ever read, in completely contrasting ways. Jane Harper's writing is fantastic, and I can't wait to see more of Falk and his Australian adventures in the future.
Daughter of Smoke & Bone (Czech Republic)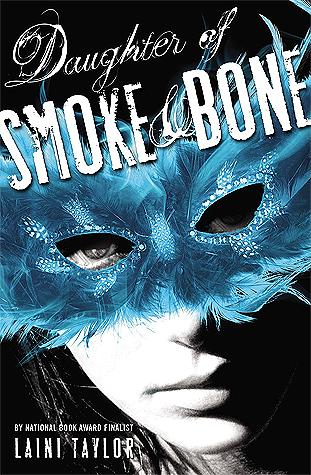 Around the world, black hand prints are appearing on doorways, scorched there by winged strangers who have crept through a slit in the sky.
In a dark and dusty shop, a devil's supply of human teeth grows dangerously low.
And in the tangled lanes of Prague, a young art student is about to be caught up in a brutal otherworldly war.
Meet Karou. She fills her sketchbooks with monsters that may or may not be real, she's prone to disappearing on mysterious "errands", she speaks many languages – not all of them human – and her bright blue hair actually grows out of her head that color. Who is she? That is the question that haunts her, and she's about to find out.
When beautiful, haunted Akiva fixes fiery eyes on her in an alley in Marrakesh, the result is blood and starlight, secrets unveiled, and a star-crossed love whose roots drink deep of a violent past. But will Karou live to regret learning the truth about herself?
• • •
I haven't read anything by Laini Taylor yet, and I'm well aware I need to fix that! I honestly didn't realize part of the setting in this series is in Prague, which is really neat. In terms of starting Taylor's writing, any opinions on whether I give Daughter of Smoke & Bone or Strange the Dreamer a shot first???
A Great and Terrible Beauty (England)
In this debut gothic novel mysterious visions, dark family secrets and a long-lost diary thrust Gemma and her classmates back into the horrors that followed her from India.
It's 1895, and after the suicide of her mother, 16-year-old Gemma Doyle is shipped off from the life she knows in India to Spence, a proper boarding school in England. Lonely, guilt-ridden, and prone to visions of the future that have an uncomfortable habit of coming true, Gemma's reception there is a chilly one. To make things worse, she's been followed by a mysterious young Indian man, a man sent to watch her. But why? What is her destiny? And what will her entanglement with Spence's most powerful girls—and their foray into the spiritual world—lead to?
• • •
This series made me feel Emotions when I read it like a decade ago, and I can barely remember anything except for a) I loved Libba Bray's writing, and b) I sobbed for hours at the end of the third book. I am honestly so curious now and want to do a reread to remember why I loved it so much! But I also have several other Libba Bray books on my TBR and can't wait to get to those.
---
This was such a fun list to put together! I love traveling to new places in the pages of a book, and it's even more exciting when it's somewhere I've been before (like Thailand, and it takes me back) or somewhere I want to go to (like Australia, when can I book my flight??). I'm always on the lookout for more books that take place abroad – do you have any recommendations? Any of these books on your own shelves?
Check out That Artsy Reader Girl's host post for even more inspiration!
Let's connect!
Goodreads • Instagram • Twitter • Bloglovin'