Top Ten Tuesday was created by The Broke and the Bookish in June of 2010 and was moved to That Artsy Reader Girl in January of 2018. It was born of a love of lists, a love of books, and a desire to bring bookish friends together.
This is my second week jumping on this meme, and can I just say, it's so much fun! I'm taking the definition of "surprised" very liberally here, but bear with me, I'll explain each of these as I go. All of the book photos link to their Goodreads pages, in case any of them sound intriguing.
---
Throne of Glass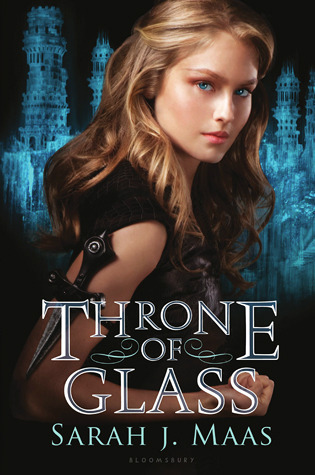 After serving out a year of hard labor in the salt mines of Endovier for her crimes, 18-year-old assassin Celae
na Sardothien is dragged before the Crown Prince. Prince Dorian offers her her freedom on one condition: she must act as his champion in a competition to find a new royal assassin.
Her opponents are men-thieves and assassins and warriors from across the empire, each sponsored by a member of the king's council. If she beats her opponents in a series of eliminations, she'll serve the kingdom for four years and then be granted her freedom. Celaena finds her training sessions with the captain of the guard, Westfall, challenging and exhilarating. But she's bored stiff by court life. Things get a little more interesting when the prince starts to show interest in her … but it's the gruff Captain Westfall who seems to understand her best.
Then one of the other contestants turns up dead … quickly followed by another. Can Celaena figure out who the killer is before she becomes a victim? As the young assassin investigates, her search leads her to discover a greater destiny than she could possibly have imagined.
 • • •
I binged on YA novels when I actually fell into their prime target audience, but the not-so-great books I picked up may have jaded me when it came to YA writing in general. Fast forward post-college, before I was using Goodreads actively, and I was still avoiding YA with a passion. But thankfully I had a coworker who absolutely demanded I get my act together and start this series and … wow, zero regrets. It re-inspired a love of YA, and I'm very slowly making my way through this series to make it last as long as I can.
In the Woods
As dusk approaches a small Dublin suburb in the summer of 1984, mothers begin to call their children home. But on this warm evening, three children do not return from the dark and silent woods. When the police arrive, they find only one of the children. He is gripping a tree trunk in terror, wearing blood-filled sneakers and unable to recall a single detail of the previous hours.
Twenty years later, the found boy, Rob Ryan, is a detective on the Dublin Murder Squad and keeps his past a secret. But when a 12-year-old girl is found murdered in the same woods, he and Detective Cassie Maddox (his partner and closest friend) find themselves investigating a case chillingly similar to the previous unsolved mystery. Now, with only snippets of long-buried memories to guide him, Ryan has the chance to uncover both the mystery of the case before him and that of his own shadowy past.
• • •
I read this for the first time over a year ago now, and I'm still too emotionally compromised to read the next books in the series??? I was blown away by the gorgeous writing — it really set a new bar for mysteries and thrillers for me!
I Let You Go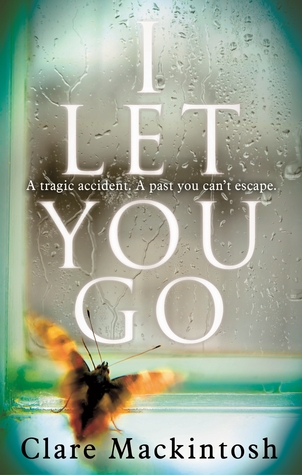 In a split second, Jenna Gray's world descends into a nightmare. Her only hope of moving on is to walk away from everything she knows to start afresh. Desperate to escape, Jenna moves to a remote cottage on the Welsh coast, but she is haunted by her fears, her grief and her memories of a cruel November night that changed her life forever.
Slowly, Jenna begins to glimpse the potential for happiness in her future. But her past is about to catch up with her, and the consequences will be devastating . . .
 • • •
Okay, but mystery and thriller lovers, you knew this one was coming, right? That twist mid-way through! This was my first Clare Mackintosh novel, and even knowing from all the hype that something crazy was in store before I started reading didn't prepare me for the absolute shift in world view that need to happen to accommodate the reveal. I'm still in awe at how well it was pulled off.
The Host
Melanie Stryder refuses to fade away. The earth has been invaded by a species that take over the minds of human hosts while leaving their bodies intact. Wanderer, the invading "soul" who has been given Melanie's body, didn't expect to find its former tenant refusing to relinquish possession of her mind.
As Melanie fills Wanderer's thoughts with visions of Jared, a human who still lives in hiding, Wanderer begins to yearn for a man she's never met. Reluctant allies, Wanderer and Melanie set off to search for the man they both love.
• • •
This is one of the ones where my definition of "surprise" gets loose. Because I just saw this on a list for books that are hyped but still daunting because of their length, and my jaw dropped when I saw that The Host clocks in at a whopping 620 pages. To be fair, I read it when it first came out 10 years ago, so that's probably why I don't recall the length, but I'm a little astonished that I had enough patience to get through a novel that gigantic so long ago. I haven't given this book much thought in awhile. Does it get a bad rep because it's by the author of the Twilight series? If it does, it shouldn't! I remember it being a very solid sci-fi story.
Meddling Kids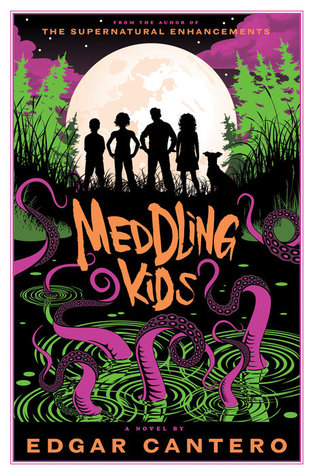 1990. The teen detectives once known as the Blyton Summer Detective Club (of Blyton Hills, a small mining town in the Zoinx River Valley in Oregon) are all grown up and haven't seen each other since their fateful, final case in 1977. Andy, the tomboy, is twenty-five and on the run, wanted in at least two states. Kerri, one-time kid genius and budding biologist, is bartending in New York, working on a serious drinking problem. At least she's got Tim, an excitable Weimaraner descended from the original canine member of the team. Nate, the horror nerd, has spent the last thirteen years in and out of mental health institutions, and currently resides in an asylum in Arhkam, Massachusetts. The only friend he still sees is Peter, the handsome jock turned movie star. The problem is, Peter's been dead for years.
The time has come to uncover the source of their nightmares and return to where it all began in 1977. This time, it better not be a man in a mask. The real monsters are waiting.
• • •
This could be construed as spoiler-y (unless I just blatantly failed at interpreting the synopsis and the genre), so if you're planning on reading it in the future, you might want to skip on ahead.
The blatant Scooby Doo homage reeled me in from the start, and it was just as nostalgic a read as I was hoping for. But I wasn't expecting the monster to turn out to be more than a man in a mask! I loved the unexpected shift into sci-fi and horror – and again, that's maybe on me for not realizing the "The real monsters are waiting" and the Horror genre was a neon sign indicating what was to come.
State of Wonder
As Dr. Marina Singh embarks upon an uncertain odyssey into the insect-infested Amazon, she will be forced to surrender herself to the lush but forbidding world that awaits within the jungle. Charged with finding her former mentor Dr. Annick Swenson, a researcher who has disappeared while working on a valuable new drug, she will have to confront her own memories of tragedy and sacrifice as she journeys into the unforgiving heart of darkness.
• • •
This is another stretch of "surprise," but I read State of Wonder for the first time right after reading Joseph Conrad's Heart of Darkness as an English assignment. While I thought it was amusing that this synopsis actually uses the phrase "heart of darkness", the impetus to read both books had come from such different sources that I wrote it off as a well-timed coincidence … and then was promptly shocked to be able to draw a world of comparisons between the two. It's probably the epitome of "well-read" I'll ever reach feeling in my life (never mind the fact I was only able to draw all those connections because Heart of Darkness was so fresh in my mind).
As a side note, later that year, one of my friends described to me a psychologically twisted video game he was playing that sounded exactly like a riff off Conrad's tale, too, and lo and behold, it totally was.
2012, ladies and gentlemen, aka the year I couldn't escape the shadow of the 20-page paper I had to write about Heart of Darkness.
All the Missing Girls
It's been ten years since Nicolette Farrell left her rural hometown after her best friend, Corinne, disappeared from Cooley Ridge without a trace. Back again to tie up loose ends and care for her ailing father, Nic is soon plunged into a shocking drama that reawakens Corinne's case and breaks open old wounds long since stitched.
The decade-old investigation focused on Nic, her brother Daniel, boyfriend Tyler, and Corinne's boyfriend Jackson. Since then, only Nic has left Cooley Ridge. Daniel and his wife, Laura, are expecting a baby; Jackson works at the town bar; and Tyler is dating Annaleise Carter, Nic's younger neighbor and the group's alibi the night Corinne disappeared. Then, within days of Nic's return, Annaleise goes missing.
Told backwards—Day 15 to Day 1—from the time Annaleise goes missing, Nic works to unravel the truth about her younger neighbor's disappearance, revealing shocking truths about her friends, her family, and what really happened to Corinne that night ten years ago.
• • •
A thriller that unfolds backwards? I absolutely had to get my hands on this one. It was my first introduction to Megan Miranda's writing (and she's since become a favorite author), and I fell in love with how well-plotted this story was. I wasn't expecting as thrilling and well-rounded a tale as this turned out to be, but it refueled my love for unconventional timelines in mysteries!
The Sense of Style
The Thinking Person's Guide to Writing in the 21st Century
Why is so much writing so bad, and how can we make it better? Is the English language being corrupted by texting and social media? Do the kids today even care about good writing? Why should any of us care?
In The Sense of Style, the bestselling linguist and cognitive scientist Steven Pinker answers these questions and more. Rethinking the usage guide for the twenty-first century, Pinker doesn't carp about the decline of language or recycle pet peeves from the rulebooks of a century ago. Instead, he applies insights from the sciences of language and mind to the challenge of crafting clear, coherent, and stylish prose.
In this short, cheerful, and eminently practical book, Pinker shows how writing depends on imagination, empathy, coherence, grammatical knowhow, and an ability to savor and reverse engineer the good prose of others. He replaces dogma about usage with reason and evidence, allowing writers and editors to apply the guidelines judiciously, rather than robotically, being mindful of what they are designed to accomplish.
Filled with examples of great and gruesome prose, Pinker shows us how the art of writing can be a form of pleasurable mastery and a fascinating intellectual topic in its own right. 
• • •
This might seem like a weird book to be in this list, but I'm absolutely fascinated by linguistics. It was strange to me that prescriptive grammar and writing style advice were coming from a trained linguist because so much of linguistics focuses on cognitive grammar and the spoken word. I was surprised by all of the great insights into not only what sounds good to the reader but why, from a cognitive/linguistic perspective. I loved learning why certain combinations of words sound better than others and how some of those translate into the grammar we're taught in school yet others never make it past colloquialisms. If that at all sounds interesting to you, too, I highly recommend giving his work a shot!
Girl on the Train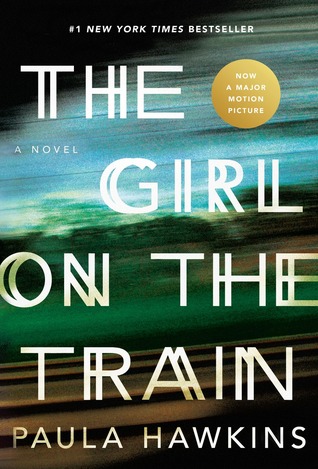 Rachel catches the same commuter train every morning. She knows it will wait at the same signal each time, overlooking a row of back gardens. She's even started to feel like she knows the people who live in one of the houses. 'Jess and Jason', she calls them. Their life – as she sees it – is perfect. If only Rachel could be that happy. And then she sees something shocking. It's only a minute until the train moves on, but it's enough. Now everything's changed. Now Rachel has a chance to become a part of the lives she's only watched from afar. Now they'll see; she's much more than just the girl on the train…
• • •
This is on here because it surprised me how much I did not like it? Sorry, not sorry. I wanted to like it, I did, but nothing about it clicked for me. I despised the main character and could not get into the plot … it's one of the few times where I've given into the hype and been majorly disappointed. Well, you win some, you lose some!
Six of Crows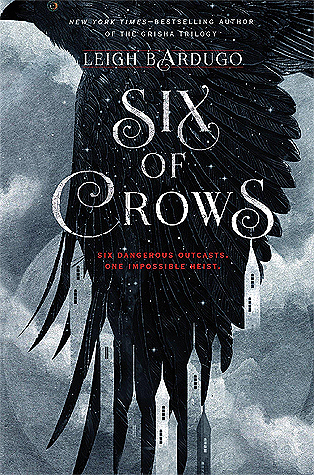 Criminal prodigy Kaz Brekker has been offered wealth beyond his wildest dreams. But to claim it, he'll have to pull off a seemingly impossible heist:
Break into the notorious Ice Court (a military stronghold that has never been breached)
Retrieve a hostage (who could unleash magical havoc on the world)
Survive long enough to collect his reward (and spend it)
Kaz needs a crew desperate enough to take on this suicide mission and dangerous enough to get the job done – and he knows exactly who: six of the deadliest outcasts the city has to offer. Together, they just might be unstoppable – if they don't kill each other first.
• • •
I will find an excuse to put Leigh Bardugo's writing on any "top X" list of mine I can, and I don't apologize for that. This is on here because how had I not read this duology before last year, it absolutely changed my life. It's got every single trope I'm a sucker for: ensemble casts, morally ambiguous characters, meticulously-planned heists, hidden powers, being forced to reevaluate one's life view, … I could probably rant about this book for ages?
In one sentence, though, Six of Crows surprised me because it's everything I love in the entire world rolled into one phenomenal novel (okay, two novels, but still).
---
That's my list for the week! And welp, it's certainly all over the place. That's probably why a lot of them surprised me 😉 What books have surprised you and in what ways? Check out That Artsy Reader Girl's host post for even more inspiration!
Let's connect!
Goodreads • Instagram • Twitter • Bloglovin'