Goodreads Monday is a weekly meme hosted by Lauren's Page Turners. To participate, choose a random book from your TBR and show it off! Check out this week's post to share your links.
I thought this would be a fun meme to jump on this week since it's always fun to go digging in my TBR and see what forgotten books might have made their way on there. Even though I added this week's pick less than a month ago, it had already completely slipped my mind.
---
The Phantom's Apprentice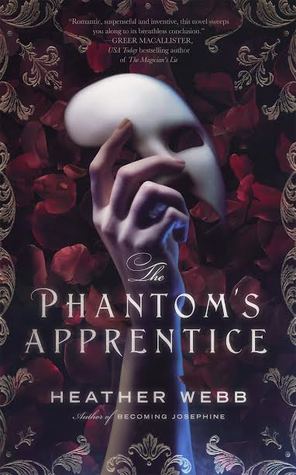 Author: Heather Webb
Genre: Historical Fiction, Mystery, Retelling
Publication Date: February 6, 2018
In this re-imagining of Phantom of the Opera, meet a Christine Daaé you've never seen before…
Christine faces an impossible choice: be a star at the Paris opera as Papa always wanted, or follow her dream—to become a master of illusions. First, she must steal the secrets of the enigmatic master who haunts her, survive a world of treachery and murder, and embrace the uncertain promise of love. To succeed, she will risk her life in the grandest illusion of all.
---
I'm not usually one to actively seek out retellings, but I'm a sucker for musicals, and I just saw The Phantom of the Opera for the second time last August (haven't read the original book yet, but shhhhh). This re-imagining popped up in my Goodreads radar the week that it was released in February, and needless to say, it immediately caught my eye and found its way onto my TBR. The reviews look overwhelmingly positive and praise the setting and magical charm, which just makes me all the more excited to get my hands on it!
So who else is a musical lover out there?
Let's connect!
Goodreads • Instagram • Twitter • Bloglovin'