Stacking The Shelves is hosted by Tygna's Reviews and Reading Reality and is all about sharing the books you are adding to your shelves, may it be physical or virtual. This means you can include books you buy in physical store or online, books you borrow from friends or the library, review books, gifts and of course ebooks!
After a crazy month, I'm getting back into the habit with these memes, and this was a good week to jump back on board! I grabbed a fun haul from the library bookshop this morning, and I'm so excited for all of them.
If any of these appeal to you, too, check out their Goodreads pages via the links on the cover images.
---
Snowblind
Siglufjörður: an idyllically quiet fishing village in Northern Iceland, where no one locks their doors – accessible only via a small mountain tunnel. Ari Thór Arason: a rookie policeman on his first posting, far from his girlfriend in Reykjavik – with a past that he's unable to leave behind. When a young woman is found lying half-naked in the snow, bleeding and unconscious, and a highly esteemed, elderly writer falls to his death in the local theatre, Ari is dragged straight into the heart of a community where he can trust no one, and secrets and lies are a way of life. An avalanche and unremitting snowstorms close the mountain pass, and the 24-hour darkness threatens to push Ari over the edge, as curtains begin to twitch, and his investigation becomes increasingly complex, chilling and personal. Past plays tag with the present and the claustrophobic tension mounts, while Ari is thrust ever deeper into his own darkness – blinded by snow, and with a killer on the loose.
 • • •
I've been meaning to give this series a shot for ages but only just had the opportunity to pick up the series opener. Fingers crossed it's an enjoyable first foray into nordic noir for me!
the princess saves herself in this one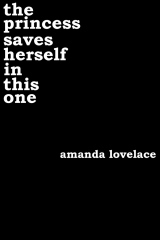 "Ah, life- the thing that happens to us while we're off somewhere else blowing on dandelions & wishing ourselves into the pages of our favorite fairy tales."
A poetry collection divided into four different parts: the princess, the damsel, the queen, & you. the princess, the damsel, & the queen piece together the life of the author in three stages, while you serves as a note to the reader & all of humankind. Explores life & all of its love, loss, grief, healing, empowerment, & inspirations.
 • • •
I'm not much of a poetry reader, but I've had my eye on Amanda Lovelace's work for awhile now. The release of the witch doesn't burn in this one reminded me how much I'd wanted to try its predecessor back when it was first released, and that was all the impetus I needed to go and find it.
Tower of Dawn
Chaol Westfall has always defined himself by his unwavering loyalty, his strength, and his position as the Captain of the Guard. But all of that has changed since the glass castle shattered, since his men were slaughtered, since the King of Adarlan spared him from a killing blow, but left his body broken.
His only shot at recovery lies with the legendary healers of the Torre Cesme in Antica—the stronghold of the southern continent's mighty empire. And with war looming over Dorian and Aelin back home, their survival might lie with Chaol and Nesryn convincing its rulers to ally with them.
But what they discover in Antica will change them both—and be more vital to saving Erilea than they could have imagined.
 • • •
I adore this series and have been taking my sweet time with reading the books. I've actually only read the first three, but now with Tower of Dawn, I've got all of them in my possession if I ever want to do a binge read!
Lovesick Titans
Not even a Titan can always stand up to a God.
Malcom Cho is in over his head, wrapped up in a love affair with his superhero nemesis Zeus, who most people in Olympus City only know as Detective Danny Grant. 
Lovesick Titans begins where Lovesick Gods left off, after a heist gone wrong that ended with a museum guard dead and Mal and Danny beaten and exhausted from their fight with the new threat in town, Cassidy Ludgate—Hades. 
Unaware that Ludgate's true motivation is revenge for the death of his father at Zeus's hands, Mal wants only to keep Danny close, while Danny races to solve the cases surrounding Ludgate to stop him from whatever he has planned for them next. 
What Mal doesn't know is that Danny didn't pursue him with the purest of intentions but sought to break his heart in retaliation for not being there when he needed him in the fight against Thanatos. Even though Danny no longer seeks that end, the lies between them loom like a shadow about to descend upon them both. 
And Hades has only begun to toy with them…
 • • •
I was so excited to receive my copy in the mail a couple days ago! I've had such a blast working with the author as the editor of this duology, and the final product showed up in my mailbox just in time for Pride. Can't wait to dive back in for the umpteenth read 🙂
Simon vs. the Homo Sapiens Agenda
Sixteen-year-old and not-so-openly gay Simon Spier prefers to save his drama for the school musical. But when an email falls into the wrong hands, his secret is at risk of being thrust into the spotlight. Now Simon is actually being blackmailed: if he doesn't play wingman for class clown Martin, his sexual identity will become everyone's business. Worse, the privacy of Blue, the pen name of the boy he's been emailing, will be compromised.
With some messy dynamics emerging in his once tight-knit group of friends, and his email correspondence with Blue growing more flirtatious every day, Simon's junior year has suddenly gotten all kinds of complicated. Now, change-averse Simon has to find a way to step out of his comfort zone before he's pushed out—without alienating his friends, compromising himself, or fumbling a shot at happiness with the most confusing, adorable guy he's never met.
 • • •
I technically got this as a gift for my partner's birthday, but we've both wanted to read it for ages, so I'm totally going to steal it at some point. Also just in time for Pride!
Ransom River
Rory Mackenzie is juror number seven on a high-profile murder case in her hometown of Ransom River, California. It's a place she vowed never to visit again, after leaving behind its surfeit of regret and misfortune and the specter of a troubled past that threatened to disturb the town's peaceful façade.
Brilliant yet guarded, Rory has always felt like an outsider. She retreated into herself when both her career aspirations and her love affair with a childhood friend, undercover cop Seth Colder, were destroyed in a tragic accident.
While most of the town is focused on the tense and shocking circumstances of the trial, Rory's return to Ransom River dredges up troubling memories from her childhood that she can no longer ignore. But in the wake of a desperate attack on the courthouse, Rory realizes that exposing these dark skeletons has connected her to an old case that was never solved, and bringing the truth to light just might destroy her.
Departing from her popular series novels, Meg Gardiner has gone deeper than ever into the utterly convincing lives and compelling pasts of her characters. Ransom River is an intimate crime thriller with a dark mystery at its heart—one that will keep readers breathless until the very last page.
 • • •
There was a giant Meg Gardiner section at the library book sale today, but I stopped myself after just grabbing two. She was an instant favorite author after reading UNSUB earlier this year, and I can't wait to dive into her earlier works.
The Nightmare Thief
Autumn Reiniger expects something special for her twenty-first birthday. Daddy's already bought her the sports car, the apartment, and admission to the private college where she parties away her weekends. Now she wants excitement, and she's going to get it. 
Her father signs up Autumn and five friends for an "ultimate urban reality" game: a simulated drug deal, manhunt, and jailbreak. It's a high-priced version of cops and robbers, played with fake guns and fast cars on the streets of San Francisco. Edge Adventures alerts the SFPD ahead of time that a "crime situation" is underway, so the authorities can ignore the squealing tires and desperate cries for help. 
Which is convenient for the gang of real kidnappers zeroing in on their target and a mammoth payday. Because what Daddy doesn't know is that someone has spotted his hedge fund's bulging profits, and the path to those riches runs right through Daddy's Little Girl. 
Working on a case nearby is forensic psychiatrist Jo Beckett and her partner Gabe Quintana. When the pair encounters a suspicious group of men carting six sullen college kids to the woods for a supposed wilderness adventure, alarm bells ring. Jo takes a closer look, and winds up with an invite to Autumn Reiniger's twenty-first birthday party-a party they may never leave.
 • • •
My other Meg Gardiner grab! It's the fourth in a series, but the plot totally appeals to me as a standalone … it sounds just as intense and fun as her UNSUB series has been for me.
Every Last Lie
"The bad man, Daddy. The bad man is after us."
Clara Solberg's world shatters when her husband and their four-year-old daughter are in a car crash, killing Nick while Maisie is remarkably unharmed. The crash is ruled an accident…until the coming days, when Maisie starts having night terrors that make Clara question what really happened on that fateful afternoon. 
Tormented by grief and her obsession that Nick's death was far more than just an accident, Clara is plunged into a desperate hunt for the truth. Who would have wanted Nick dead? And, more important, why? Clara will stop at nothing to find out—and the truth is only the beginning of this twisted tale of secrets and deceit. 
Told in the alternating perspectives of Clara's investigation and Nick's last months leading up to the crash, master of suspense Mary Kubica weaves her most chilling thriller to date—one that explores the dark recesses of a mind plagued by grief and shows that some secrets might be better left buried.
 • • •
This is probably going to be my first Mary Kubica book! Better late than never. The blurb sounds wonderfully dark and intriguing … right up my alley!
---
That's my haul for the week! Any of these books on your radar? What did you add to your stacks this week?
Let's connect!
Goodreads • Instagram • Twitter • Bloglovin'