Okay, real talk, how is the start of spring coming up this month? Is anyone else in awe that we're already 3 months into 2018?
The lovely Tina over at Reading Between the Pages is hosting this fun meme to share your month's reading goals. To meet some new bloggers and maybe some new titles, go check it out!
---
So what's on my list?
I've got a thriller-heavy month ahead of me, and I couldn't be more excited. There's actually four books pulled in that are the next-ups for series I absolutely adore, and I've been looking forward to reading them for ages now!
Two of these books are review copies from Edelweiss, and it'll be my first experience working with that platform. And then a bunch of these are library holds that all came in at once … so I'm extra-motivated to finish them before they have to be returned!
Force of Nature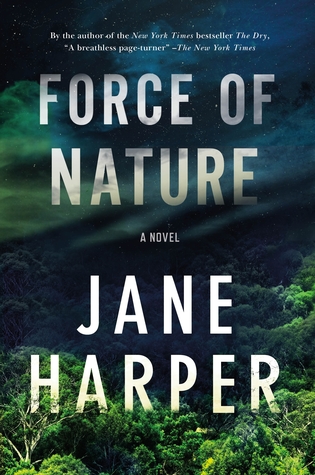 Five women go on a hike. Only four return. Jane Harper, the New York Times bestselling author of The Dry, asks: How well do you really know the people you work with?
When five colleagues are forced to go on a corporate retreat in the wilderness, they reluctantly pick up their backpacks and start walking down the muddy path.
But one of the women doesn't come out of the woods. And each of her companions tells a slightly different story about what happened.
Federal Police Agent Aaron Falk has a keen interest in the whereabouts of the missing hiker. In an investigation that takes him deep into isolated forest, Falk discovers secrets lurking in the mountains, and a tangled web of personal and professional friendship, suspicion, and betrayal among the hikers. But did that lead to murder?
As Bright As Heaven
In 1918, Philadelphia was a city teeming with promise. Even as its young men went off to fight in the Great War, there were opportunities for a fresh start on its cobblestone streets. Into this bustling town, came Pauline Bright and her husband, filled with hope that they could now give their three daughters–Evelyn, Maggie, and Willa–a chance at a better life.
But just months after they arrive, the Spanish Flu reaches the shores of America. As the pandemic claims more than twelve thousand victims in their adopted city, they find their lives left with a world that looks nothing like the one they knew. But even as they lose loved ones, they take in a baby orphaned by the disease who becomes their single source of hope. Amidst the tragedy and challenges, they learn what they cannot live without–and what they are willing to do about it.
As Bright as Heaven is the compelling story of a mother and her daughters who find themselves in a harsh world, not of their making, which will either crush their resolve to survive or purify it.
This Fallen Prey
When Casey Duncan first arrived at Rockton, the off-the-grid, isolated community built as a haven for people running from their pasts, she had no idea what to expect. There are no cell phones, no internet, no mail, and no way of getting in or out without the town council's approval. She certainly didn't expect to become the town homicide detective. But, the very last thing she expected was for the council to drop a dangerous criminal into their midst without a plan to keep him imprisoned. And she never thought that she'd have to be responsible for him.
The longer Oliver Brady stays in town, the more people seem to die around him. When evidence begins piling up that someone inside Rockton is working as his accomplice, Casey races to figure out who exactly Brady is and what crimes he's truly responsible for committing.
All the Beautiful Lies
Harry Ackerson has always considered his stepmother Alice to be sexy and beautiful, in an "otherworldly" way. She has always been kind and attentive, if a little aloof in the last few years.
Days before his college graduation, Alice calls with shocking news. His father is dead and the police think it's suicide. Devastated, Harry returns to his father's home in Maine. There, he and Alice will help each other pick up of the pieces of their lives and uncover what happened to his father.
Shortly after he arrives, Harry meets a mysterious young woman named Grace McGowan. Though she claims to be new to the area, Harry begins to suspect that Grace may not be a complete stranger to his family. But she isn't the only attractive woman taking an interest in Harry. The sensual Alice is also growing closer, coming on to him in an enticing, clearly sexual way.
Mesmerized by these two women, Harry finds himself falling deeper under their spell. Yet the closer he gets to them, the more isolated he feels, disoriented by a growing fear that both women are hiding dangerous—even deadly—secrets . . . and that neither one is telling the truth.
They All Fall Down
She knows there's a killer on the loose.
But no-one believes her.
Will she be next?
Hannah had a normal life – a loving husband, a good job. Until she did something shocking. Now she's in a psychiatric clinic. It should be a safe place. But patients keep dying.
The doctors say it's suicide. Hannah knows they're lying. Can she make anyone believe her before the killer strikes again?
Killman Creek
Every time Gwen closed her eyes, she saw him in her nightmares. Now her eyes are open, and he's not going away.
Gwen Proctor won the battle to save her kids from her ex-husband, serial killer Melvin Royal, and his league of psychotic accomplices. But the war isn't over. Not since Melvin broke out of prison. Not since she received a chilling text…
You're not safe anywhere now.
Her refuge at Stillhouse Lake has become a trap. Gwen leaves her children in the protective custody of a fortified, well-armed neighbor. Now, with the help of Sam Cade, brother of one of Melvin's victims, Gwen is going hunting. She's learned how from one of the sickest killers alive.
But what she's up against is beyond anything she feared—a sophisticated and savage mind game calculated to destroy her. As trust beyond her small circle of friends begins to vanish, Gwen has only fury and vengeance to believe in as she closes in on her prey. And sure as the night, one of them will die.
Bonfire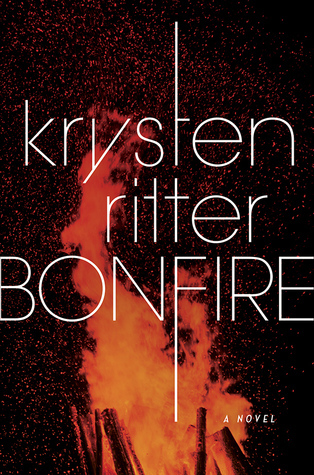 Should you ever go back?
It has been ten years since Abby Williams left home and scrubbed away all visible evidence of her small town roots. Now working as an environmental lawyer in Chicago, she has a thriving career, a modern apartment, and her pick of meaningless one-night stands.
But when a new case takes her back home to Barrens, Indiana, the life Abby painstakingly created begins to crack. Tasked with investigating Optimal Plastics, the town's most high-profile company and economic heart, Abby begins to find strange connections to Barrens' biggest scandal from more than a decade ago involving the popular Kaycee Mitchell and her closest friends—just before Kaycee disappeared for good.
Abby knows the key to solving any case lies in the weak spots, the unanswered questions. But as Abby tries to find out what really happened to Kaycee, she unearths an even more disturbing secret—a ritual called "The Game," which will threaten the reputations, and lives, of the community and risk exposing a darkness that may consume her.
The One
How far would you go to find The One?
A simple DNA test is all it takes. Just a quick mouth swab and soon you'll be matched with your perfect partner—the one you're genetically made for.
That's the promise made by Match Your DNA. A decade ago, the company announced that they had found the gene that pairs each of us with our soul mate. Since then, millions of people around the world have been matched. But the discovery has its downsides: test results have led to the breakup of countless relationships and upended the traditional ideas of dating, romance and love.
Now five very different people have received the notification that they've been "Matched." They're each about to meet their one true love. But "happily ever after" isn't guaranteed for everyone. Because even soul mates have secrets. And some are more shocking than others…
Into the Black Nowhere
In southern Texas, on Saturday nights, women are disappearing. One vanishes from a movie theater. Another is ripped from her car at a stoplight. Another vanishes from her home while checking on her baby. Rookie FBI agent Caitlin Hendrix, newly assigned to the FBI's elite Behavioral Analysis Unit, fears that a serial killer is roaming the dark roads outside Austin.
Caitlin and the FBI's serial crime unit discover the first victim's body in the woods. She's laid out in a bloodstained, white baby-doll nightgown. A second victim in a white nightie lies deeper in the forest's darkness. Both bodies are surrounded by Polaroid photos, stuck in the earth like headstones. Each photo pictures a woman in a white negligee, wrists slashed, suicide-style–posed like Snow White awaiting her prince's kiss.
To track the UNSUB, Caitlin must get inside his mind. How is he selecting these women? Working with a legendary FBI profiler, Caitlin searches for a homology–that elusive point where character and action come together. She profiles a confident, meticulous killer who convinces his victims to lower their guard until he can overpower and take them in plain sight. He then reduces them to objects in a twisted fantasy–dolls for him to possess, control, and ultimately destroy. Caitlin's profile leads the FBI to focus on one man: a charismatic, successful professional who easily gains people's trust. But with only circumstantial evidence linking him to the murders, the police allow him to escape. As Saturday night approaches, Caitlin and the FBI enter a desperate game of cat and mouse, racing to capture the cunning predator before he claims more victims.
---
That's my 9 books planned! I'm leaving a little bit of wiggle room from my 12 last month in case other review copies catch my eye or holds come through at the library – and because I've got a lot on my plate IRL this month.
This Fallen Prey, Into the Black Nowhere, Killman Creek, and Force of Nature are four of my most anticipated reads because they all are the next-ups in series I absolutely adore. Is anyone else planning on continuing series they love this month?
Any of these books catch your eye? I'd love to hear what's on deck for you!
Let's connect!
Goodreads • Instagram • Twitter • Bloglovin'