Welcome to WWW Wednesday! This meme is hosted by Sam @ Taking on a World of Words. It's simple – just answer the three questions below. And check out her post this week to get inspired by what everyone else is reading!
The Three Ws are:
What are you currently reading?
What did you recently finish reading?
What do you think you'll read next?
---
Currently Reading: People Like Us
Kay Donovan may have skeletons in her closet, but the past is past, and she's reinvented herself entirely. Now she's a star soccer player whose group of gorgeous friends run their private school with effortless popularity and acerbic wit. But when a girl's body is found in the lake, Kay's carefully constructed life begins to topple.
The dead girl has left Kay a computer-coded scavenger hunt, which, as it unravels, begins to implicate suspect after suspect, until Kay herself is in the crosshairs of a murder investigation. But if Kay's finally backed into a corner, she'll do what it takes to survive. Because at Bates Academy, the truth is something you make…not something that happened.
 • • •
For some reason, I'm a sucker for there's-a-mean-girl-and-someone-dies when it comes to YA novels set in high school. The whole scavenger hunt aspect sounds intriguing to me, and I'm excited for what looks like it'll be a light and fun read after a month of heavy thrillers and the crazy perfection that was …
Recently Finished: The Cruel Prince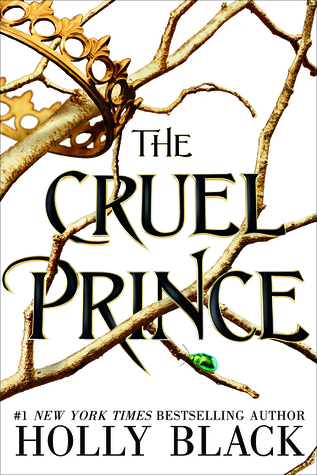 Jude was seven years old when her parents were murdered and she and her two sisters were stolen away to live in the treacherous High Court of Faerie. Ten years later, Jude wants nothing more than to belong there, despite her mortality. But many of the fey despise humans. Especially Prince Cardan, the youngest and wickedest son of the High King.
To win a place at the Court, she must defy him–and face the consequences.
In doing so, she becomes embroiled in palace intrigues and deceptions, discovering her own capacity for bloodshed. But as civil war threatens to drown the Courts of Faerie in violence, Jude will need to risk her life in a dangerous alliance to save her sisters, and Faerie itself.
 • • •
Don't mind me, I'm just over here in the corner emotionally compromised over Jude, Cardan, and all of Elfhane. It's fine. I'm fine.
(p.s. come scream with me about this one)
Reading Next: This Fallen Prey
When Casey Duncan first arrived at Rockton, the off-the-grid, isolated community built as a haven for people running from their pasts, she had no idea what to expect. There are no cell phones, no internet, no mail, and no way of getting in or out without the town council's approval. She certainly didn't expect to become the town homicide detective. But, the very last thing she expected was for the council to drop a dangerous criminal into their midst without a plan to keep him imprisoned. And she never thought that she'd have to be responsible for him. 
The longer Oliver Brady stays in town, the more people seem to die around him. When evidence begins piling up that someone inside Rockton is working as his accomplice, Casey races to figure out who exactly Brady is and what crimes he's truly responsible for committing.
 • • •
Finally! I've been dying to read this book for ages, and things just kept getting in the way. Kelley Armstrong is my favorite author, her Rockton series is one of my favorite series, and everything I've heard so far points to the tension and thrills ratcheting up in this novel … I can't wait!
---
And that's a current snapshot of my books! Have you read any of these? What does your WWW look like?
Let's connect!
Goodreads • Instagram • Twitter • Bloglovin'