Stacking The Shelves is hosted by Tygna's Reviews and Reading Reality and is all about sharing the books you are adding to your shelves, may it be physical or virtual. This means you can include books you buy in physical store or online, books you borrow from friends or the library, review books, gifts and of course ebooks!
I … wasn't supposed to obtain this many books, and I'm still not entirely sure how it happened. Well, either way, these are all the books that passed into my hands this week! All cover images are linked to their Goodreads pages.
---
The Flight Attendant
Cassandra Bowden is no stranger to hungover mornings. She's a binge drinker, her job with the airline making it easy to find adventure, and the occasional blackouts seem to be inevitable. She lives with them, and the accompanying self-loathing. When she awakes in a Dubai hotel room, she tries to piece the previous night back together, already counting the minutes until she has to catch her crew shuttle to the airport. She quietly slides out of bed, careful not to aggravate her already pounding head, and looks at the man she spent the night with. She sees his dark hair. His utter stillness. And blood, a slick, still wet pool on the crisp white sheets. Afraid to call the police–she's a single woman alone in a hotel room far from home–Cassie begins to lie. She lies as she joins the other flight attendants and pilots in the van. She lies on the way to Paris as she works the first class cabin. She lies to the FBI agents in New York who meet her at the gate. Soon it's too late to come clean-or face the truth about what really happened back in Dubai. Could she have killed him? If not, who did?

 • • •
I keep hearing great things about this book! Everyone says the plot is detailed and intricate, and even though it's a slow burn, you'll be feeling tension and anxiety the whole way through. I'm excited to get swept up in Cassie's lies and the search for the truth.
Back Spin
Kidnappers have snatched the teenage son of super-star golfer Linda Coldren and her husband, Jack, an aging pro, at the height of the U.S. Open. To help get the boy back, sports agent Myron Bolitar goes charging after clues and suspects from the Main Line mansions to a downtown cheaters' motel–and back in time to a U.S. Open twenty-three years ago, when Jack Coldren should have won, but didn't. Suddenly Myron finds him self surrounded by blue bloods, criminals, and liars. And as one family's darkest secrets explode into murder, Myron finds out just how rough this game can get.

 • • •
I'm a big Harlan Coben fan, but I've mostly read his standalones (Don't Let Go from last fall was great!). I'm slowly making my way through his Myron Bolitar series. Myron's such a quirky character, and these have been quick and fun reads for me. I grabbed this one just to have it queued up; it's the fourth in the series, but I still need to read the third one.
If We Were Villains
On the day Oliver Marks is released from jail, the man who put him there is waiting at the door. Detective Colborne wants to know the truth, and after ten years, Oliver is finally ready to tell it.
Ten years ago: Oliver is one of seven young Shakespearean actors at Dellecher Classical Conservatory, a place of keen ambition and fierce competition. In this secluded world of firelight and leather-bound books, Oliver and his friends play the same roles onstage and off: hero, villain, tyrant, temptress, ingénue, extra. But in their fourth and final year, the balance of power begins to shift, good-natured rivalries turn ugly, and on opening night real violence invades the students' world of make believe. In the morning, the fourth-years find themselves facing their very own tragedy, and their greatest acting challenge yet: convincing the police, each other, and themselves that they are innocent.
Part coming-of-age story, part confession, If We Were Villains explores the magical and dangerous boundary between art and life. In this tale of loyalty and betrayal, madness and ecstasy, the players must choose what roles to play before the curtain falls.

 • • •
Full disclosure, the title alone was enough to grab my interest. But I was even more excited to read it after checking out the blurb – sounds like layered characters, clique-y secrets, and desperate cover-ups … all in all, definitely my cup of tea.
Stalking Jack the Ripper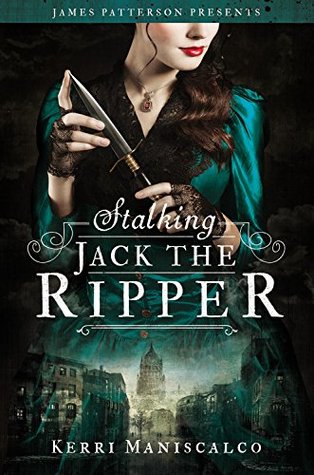 Seventeen-year-old Audrey Rose Wadsworth was born a lord's daughter, with a life of wealth and privilege stretched out before her. But between the social teas and silk dress fittings, she leads a forbidden secret life.
Against her stern father's wishes and society's expectations, Audrey often slips away to her uncle's laboratory to study the gruesome practice of forensic medicine. When her work on a string of savagely killed corpses drags Audrey into the investigation of a serial murderer, her search for answers brings her close to her own sheltered world.
 • • •
I am so excited to read this book? I mentioned it on my Spring TBR earlier this week as something that made its way onto my TBR before I had even finished reading the blurb. The plot, the setting, the characters … it's going to be a blast and the perfect escape.
The Bouncer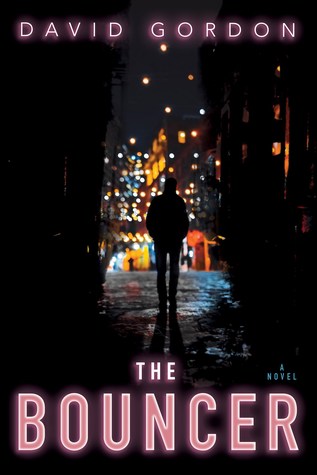 Joe Brody is just your average Dostoevsky-reading, Harvard-expelled strip club bouncer who has a highly classified military history and whose best friend from Catholic school happens to be head mafioso Gio Caprisi. FBI agent Donna Zamora, the best shot in her class at Quantico, is a single mother stuck at a desk manning the hotline. Their storylines intersect over a tip from a cokehead that leads to a crackdown on Gio's strip joint in Queens and Joe's arrest—just one piece of a city-wide sweep aimed at flushing out anyone who might have a lead on the various terrorists whose photos are hanging on the wall under Most Wanted. Outside the jailhouse, the Fed and the bouncer lock eyes, as Gordon launches them both headlong into a nonstop plot that goes from back-road gun show intervention to high-stakes perfume heist and manages to touch everyone from the CIA to the Flushing Triads. Beneath it all lurks a sinister criminal mastermind whose manipulations could cause chaos on a massively violent scale.
 • • •
This sounds like a fun and solid crime fiction novel, and it was my first Netgalley request, which caught my eye on one of my initial logins. I'll be tackling this one later on, as it's getting released in August, but I'm looking forward to it.
Jar of Hearts
At 30 years old, Georgina, known as Geo, is a rising executive when her world comes crashing down. Her high school boyfriend has been identified and arrested for a series of serial murders, including Angela, Geo's best friend in high school. Angela disappeared without a trace at 16 and her body has just been found. Now Geo is under arrest for helping her then-boyfriend hide her best friend's body. And it's one of her other close friends in high school, Kaiser Brody, who arrests her. 
While Geo is sent to prison for her part, Calvin escapes from custody and is on the run. At 35 years old, Geo is about to be released from prison to try and start over. But someone has started killing people and dumping their bodies in her old neighborhood, with some of the markers of the missing Sweetbay Strangler—her old boyfriend Calvin. Is these killings some kind of message from Calvin? Are they some of revenge? Is she herself now in danger?
Everything turns on what really happened that tragic night back when Geo and Angela were 16 years old. Everyone thinks they know the truth, but there are dark secrets buried deep within other secrets, and it may be too late for anyone to survive the truth.
 • • •
If you know me, you know I really love plots that circle back to tragic, unsolved events in the narrator's past. I saw a great review for this one recently, which put it on my radar, and I was able to grab it from NetGalley. Can't wait to dive in!
Sometimes I Lie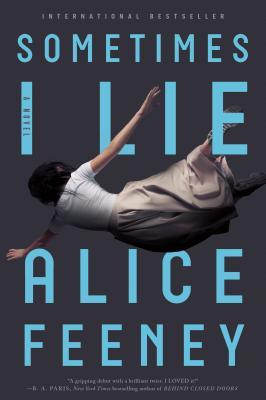 My name is Amber Reynolds. There are three things you should know about me: 
1. I'm in a coma. 
2. My husband doesn't love me anymore. 
3. Sometimes I lie. 
Amber wakes up in a hospital. She can't move. She can't speak. She can't open her eyes. She can hear everyone around her, but they have no idea. Amber doesn't remember what happened, but she has a suspicion her husband had something to do with it. Alternating between her paralyzed present, the week before her accident, and a series of childhood diaries from twenty years ago, this brilliant psychological thriller asks: Is something really a lie if you believe it's the truth?
 • • •
Another book I've seen plenty of hype for! I'm a sucker for unreliable narrators and non-linear timelines *grabby hands* and this particular unreliable narrator is a really unique choice. I'm intrigued!
Let Me Lie
The police say it was suicide.
Anna says it was murder.
They're both wrong.
One year ago, Caroline Johnson chose to end her life brutally: a shocking suicide planned to match that of her husband just months before. Their daughter, Anna, has struggled to come to terms with their loss ever since.
Now with a young baby of her own, Anna misses her mother more than ever and starts to question her parents' deaths. But by digging up their past, she'll put her future in danger. Sometimes it's safer to let things lie…
 • • •
I Let You Go and I See You were both slow burning and twisty mysteries that made me a fan of Clare Mackintosh's writing, and even though I've seen split opinions on Let Me Lie, I'm still excited to give it a shot!
The Echo Killing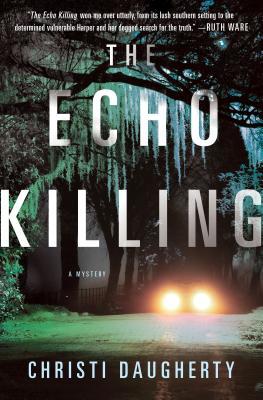 A city of antebellum architecture, picturesque parks, and cobblestone streets, Savannah moves at a graceful pace. But for Harper McClain, the timeless beauty and culture that distinguishes her home's Southern heritage vanishes during the dark and dangerous nights. She wouldn't have it any other way. Not even finding her mother brutally murdered in their home when she was twelve has made her love Savannah any less.
Her mother's killer was never found, and that unsolved murder left Harper with an obsession that drove her to become one of the best crime reporters in the state of Georgia. She spends her nights with the police, searching for criminals. Her latest investigation takes her to the scene of a homicide where the details are hauntingly familiar: a young girl being led from the scene by a detective, a female victim naked and stabbed multiple times in the kitchen, and no traces of any evidence pointing towards a suspect.
Harper has seen all of this before in her own life. The similarities between the murder of Marie Whitney and her own mother's death lead her to believe they're both victims of the same killer. At last, she has the chance to find the murderer who's eluded justice for fifteen years and make sure another little girl isn't forever haunted by a senseless act of violence―even if it puts Harper in the killer's cross-hairs…
 • • •
I can't wait to read this one! The southern setting, the crime reporter narrator, and the chance to put to confront demon's from the narrator's past … yes, please! I keep hearing great things about this book.
Bone Music
Charlotte Rowe spent the first seven years of her life in the hands of the only parents she knew—a pair of serial killers who murdered her mother and tried to shape Charlotte in their own twisted image. If only the nightmare had ended when she was rescued. Instead, her real father exploited her tabloid-ready story for fame and profit—until Charlotte finally broke free from her ghoulish past and fled. Just when she thinks she has buried her personal hell forever, Charlotte is swept into a frightening new ordeal. Secretly dosed with an experimental drug, she's endowed with a shocking new power—but pursued by a treacherous corporation desperate to control her.
Except from now on, if anybody is going to control Charlotte, it's going to be Charlotte herself. She's determined to use the extraordinary ability she now possesses to fight the kind of evil that shattered her life—by drawing a serial killer out from the shadows to face the righteous fury of a victim turned avenger.
 • • •
This one came up on my radar recently, but it sounds like a wonderful mix of elements from both thrillers and fantasy plots. Charlotte sounds like she's going to be a strong and intriguing character … and I absolutely can't wait to learn more about her powers.
---
That's ten books … oops? I want to read all of these dearly, and I'm hoping to be able to get to most of them in April – fingers crossed! Honestly, why isn't there ever enough time in the world just for reading?
Any of these books on your radar? What did you add to your stacks this week?
Let's connect!
Goodreads • Instagram • Twitter • Bloglovin'